In Italy, Rainbow Cookies are created close to the holidays and involve three layers of cake.
To mimic the Italian flag, these cake layers are colored red and green though one is left plain.
The layers of cake are then sandwiched with jelly, including apricot, raspberry, and even fig. However, rainbow cookies can be shaped like colored rainbows or simply involve a wide variety of colors. 
In this guide, we will detail eight of the best Rainbow Cookies recipes you have to try.
This will include the traditional Italian creation as well as other definitions of Rainbow Cookies. 
Italian Rainbow Cookies
Rainbow Cookies
Traditional Rainbow Cookies
Classic Rainbow Cookies
Christmas Rainbow Cookies
Rainbow Reveal Cookies
Awesome Rainbow Cookies
Rainbow Egg Cookies
The best Italian Rainbow Cookies should have brightly colored layers of almond cake. Each layer is sandwiched together with raspberry jelly and then completely covered in chocolate.
You could even create your own ice cream sundae by chopping up the cookies and combining them with almond ice cream with some swirls of raspberry jelly.
For traditional Italian Rainbow Cookies, grease up three baking pans and line them with parchment paper.
Combine a can of almond paste with a cup of sugar and a stick of butter and mix until smooth then add the remaining two sticks of butter and gradually incorporate the four egg yolks.
Follow them with two teaspoons of almond extract and a quarter-cup of milk then gradually add the two cups of all-purpose flour and set aside.
In another bowl, whip up the four egg whites until stiff peaks then fold into the flour mixture and divide it all between three bowls.
Create three batters; one colored pink, one green, and the other left plain.
Bake each batter in its own pan then allow them to cool completely before covering the green layer with half of the raspberry jelly.
Place the plain layer on top, then cover the top of that layer with the rest of the jelly and sandwich it with the pink layer.
Cover with plastic wrap and weigh it down while chilling in the refrigerator overnight.
Spread half of the melted chocolate on the top, allow to set in the refrigerator, then flip it over, spread the rest of the melted chocolate onto the exposed layer, chill, and trim into squares. 
This recipe uses a similar range of ingredients with a little less butter and some Kosher salt, however, the big change is the jelly.
You will need a full jar of smooth apricot jelly which provides a subtler flavor than the raspberry jelly.
Be even more precise with this recipe by trimming the edges of each layer of cake sponge to create a more professional-looking batch of cookies.
Try to cut the cookies out a couple at a time and if the chocolate fails to hold its shape, leave it for a little longer in the refrigerator. 
This batch of Traditional Rainbow Cookies may look a little different and that comes with the chocolate. Instead of bittersweet chocolate, semisweet chocolate is used which creates a less bitter covering.
One tip to create more distinctive cookies is to dip the kitchen knife in hot water and the wiping dry before cutting as it should soften the chocolate.
You can even just use one nine by 13-inch baking pan, removing the cake layer each time and then running the pan until cold water before adding more batter. 
With this recipe for Classic Rainbow Cookies, you can simply beat the eggs together instead of separating them.
While the recipe does suggest placing the cake in the refrigerator overnight, it may only need a couple of hours if you are pressed for time.
Ensure that your flour is thrown in unsifted too as it should mix together fine once the batter is divided into three.
The main change-up with these Christmas Rainbow Cookies is the use of fig jam.
This should give the cookies a more rustic and traditional taste, especially in the lead-up to the holidays.
You may want to warm up the fig jam just a little to make sure it becomes viscous enough to spread easily.
Rainbow cookies do not have to include layers of red and green cake batter sandwiched with jelly as they can simply be cookies featuring various colors in a simple recipe.
For these rainbow cookies, beat 200g butter then mix with 300g powdered sugar followed by three eggs, a teaspoon of vanilla extract, and a pinch of salt.
Work the dough on a floured surface with your hands then divide it into two pieces, wrapping one in cling film. 
Divide the other half of the dough into six pieces, each one a little smaller than the previous one, and color them individually with food coloring gel.
Roll out the smallest piece of dough to 20cm long in a cigar shape. Repeat with the following piece of dough and wrap it around then work in size order, until you have a long tube of six individually colored circles.
Slice the tube in half down the middle, repeat that with your reserved dough, and roll it out to half a centimeter thickness to wrap around one of the rainbow-colored pieces of dough.
Keep the shape together and repeat the process with the remaining colored strip of dough and tightly wrap up both pieces of dough in plastic wrap.
Leave them to chill in the refrigerator, cut them into one-and-a-half-centimeter slices and you should have a rainbow pattern on each one.
Lay them out on a baking sheet and bake for around 15 to 20 minutes.
Simple chocolate chip cookies only need some food colorings and another egg yolk to create deliciously awesome rainbow cookies.
This recipe should create around 36 cookies and is largely the same as a typical cookie recipe.
Once the dough has been created, divide it into sections, and color each one with its own food coloring.
Roll the individual sections of dough into ropes, place them next to each other on some plastic wrap, and create a twisted log.
Remove the plastic wrap then cut the dough into half-inch pieces, roll it into balls, and incorporate the chocolate chips.
Place the balls on the prepared baking sheet, press them down, and bake until the edges become set which should take between nine and 13 minutes.
Let the cookies cool completely and admire the rainbows. 
These Rainbow Egg Cookies are made so much easier with some prepared sugar cookie mix and whipped vanilla frosting from Betty Crocker™.
After that, you only need three of your favorite food colorings, an egg, a quarter-cup of all-purpose flour, and half a cup of softened butter or simply margarine.
Start by preheating the oven to 375°F and then combining the sugar cookie mix with flour, butter, and egg until you achieve a dough. 
Separate the dough into three bowls and tint each one with an individual food coloring.
Shape a third of a cup of each colored dough into a rope around an inch in diameter and five inches long.
Place the ropes alongside each other and roll them out until a quarter-inch thick then cut them so each cookie has three colors then sprinkle them with sugar.
Place the cookies on a prepared tray and bake for around seven to nine minutes until lightly golden brown, spread the frosting on half of the cookies then sandwich them together. 
Final Thoughts
Rainbow Cookies are hugely popular in Italy, particularly around the holidays and they do give a sense of patriotism.
That may explain why they are so popular in New York City too given the large population of Italians.
Indeed, if you were to look for the best Rainbow Cookies in the city, you should head to Little Italy and look for a historic Italian bakery.
Ferrara's is a traditional family-run Italian bakery that was founded in 1892 and they are known to create the best Rainbow Cookies in the city. 
Frequently Asked Questions
What Is The Traditional Italian Name For Rainbow Cookies?
In Italy, Rainbow Cookies are traditionally called Tricolore, and with good reason too. This translates to three colors due to the cookies' resemblance to the Italian flag.
A red-colored layer of cake should be topped by a plain layer with a green layer on top. Each cookie, when presented on its side, should look like the Italian flag.
What Is The Overriding Flavor In Rainbow Cookies?
Due to the use of almond extract, Rainbow Cookies should taste rather like marzipan.
You can create flavor variations by using a different flavored jelly from the recipe, though raspberry, fig, and apricot flavors are popular.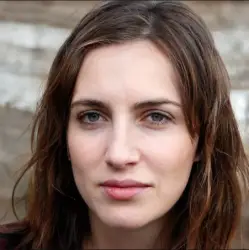 Latest posts by Anna Ingham
(see all)