When it comes to donuts, there's only one iconic image that you probably picture: the pink donut.
Even though donuts come in all kinds of different flavors and forms, with all sorts of wild and colorful designs, perhaps the most famous donut is the pick one – and that's largely thanks to it being Homer Simpson's donut of choice on The Simpsons!
It's easy to understand why it's Homer's favorite type of donut, too, because there's a lot to love!
Their bright pink color simply screams fun and joy, and the sickly smooth icing and crunchy sprinkles add plenty of flavor to the already-tasty dough of the donut.
In our delicious guide below, we've got the 10 best pink donuts recipes that you will simply love. However you like your pink donut, you're sure to find recipes in our list that become future favorites. Read on!
10 Best Pink Donuts Recipes You Will Love
We couldn't start this list off with anything other than a recipe for the classic pink donut that's been popularized so much by its appearances on The Simpsons!
One of the most famous TV shows of all time, and one of the longest running, The Simpsons has featured pink donuts for decades, and now you can make your very own.
These delicious ring donuts are light and fluffy, with a brilliant pink glazing on top that will melt in your mouth.
And if that wasn't enough? Each one is scattered with a generous covering of multi-colored sprinkles, which add crunch and extra flavor to the sweet treat, giving it an even better texture and taste.
Even better, these pink donuts are incredibly easy to make! For the donuts themselves, you'll need a small handful of typical baking staples, such as egg, flour, sugar, butter, and so on.
Meanwhile, the pink glaze is even easier to throw together! All it takes is icing sugar, milk or water, and some pink coloring to give it that famously fun shade. Delicious!
Our next pick is the recipe for some wonderfully old fashioned pink donuts, with a classic taste and a brilliant pink glaze that will tickle your taste buds.
Easy to make, it's the ideal snack to throw together after dinner or for lunch, and it's an especially good pick for special romantic occasions like Valentine's Day. After all, that pink coloring is perfect for romance!
These fluffy homemade donuts take 30 minutes to prepare and just 10 minutes to cook, but you need to leave about 2 hours for rising time. Make sure you plan ahead!
Each donut uses a variety of typical ingredients, such as baking powder and granulated sugar, but you'll also be using dragon fruit powder.
This is a little less common in baking, but it gives the sweet snacks extra sweetness and color, making it the perfect additional ingredient for pink donuts.
This next pink donut recipe switches things up a bit, because it gives you a brilliantly sickly and fruity pink raspberry glaze all without the use of food coloring.
A lot of pink donut recipes often use pink food coloring in order to give their glazing its classic pink shade.
There's nothing wrong with this, of course, and it's a great and easy way to get your glazing looking great. However, this recipe gives you something more natural – and fruity!
The shortcoming of food colorings is that they don't really add a flavor to your glazing, but with this recipe you make a pink raspberry glaze that makes the donuts extra fruity and tasty.
It's simple to make, too, using just 5 ingredients! Naturally, one of the ingredients is raspberries, and you can choose between using fresh or frozen ones.
If raspberries aren't your favorite flavor, the recipe also tells you how to make a wonderful purple blueberry glaze.
Just as fruity, and equally delicious, this is a great glaze – even if it doesn't quite have the classic pink look that you're going for.
Vanilla is one of the very best flavors to have in a donut, with its fantastically sweet and floral flavor.
As a result, the donuts from this next recipe are a must-try, which have a wonderfully thick and tasty vanilla glaze on top of each light and fluffy donut.
Better still, each donut has a variety of colorful sprinkles on top, which add extra taste and crunch.
These delicious vanilla glazed pink donuts are totally quick and easy to make, too, because they take just 10 minutes to prepare and then a mere 10 minutes to bake.
This makes them the ideal colorful sweet treat to throw together after dinner one night, or even as an early breakfast snack.
The thick vanilla glaze that each donut is dipped into is very easy to make too, using just 4 key ingredients.
It gets its sweet vanilla flavoring from the use of vanilla extract, and pink food coloring gives it the classic look.
The worst thing about a tasty donut is that it's sometimes gone too soon…when something is this moreish, you eat it quickly!
Thankfully, the massive pink donut that you get from this recipe doesn't have such a problem, because it's going to last you a while.
Modeled on Lard Lad's famous Big Pink Donuts, this sweet treat will give you something to chew on for ages.
Despite this, though, it only requires all the usual ingredients you'd use for a donut – just in larger portions! You'll need baking staples like milk, eggs, sugar, and more.
Meanwhile, the dazzling pink glaze is made from a mixture of powdered sugar, milk, rainbow sprinkles, and then pink gel food coloring to give it the classic bright pastel shade.
Donuts are the ideal sweet treat, which is why nobody should have to miss out on having them.
However, since lots of typical pink donut recipes will use ingredients that people such as vegans might not be able to have with their lifestyle or dietary requirements, what can they do? Thankfully, that's where this recipe comes in!
This brilliant pink donut recipe uses all kinds of vegan substitutes for its ingredients, while still keeping all the same great taste and texture that you'd expect, meaning vegans can enjoy these classic treats too!
For example, the recipe uses soy milk in place of dairy milk, and vegan butter instead of a dairy-based butter.
In a cool touch, you'll also be adding applesauce or mashed banana into the mix, which gives the pink donut an extra edge of fruitiness.
Our next recipe is a great twist on the classic pink donut, adding a coating of tasty toasted coconut instead of more regular toppings like sprinkles.
Coconut has a really unique, delicious taste, with its perfect blend of sweetness and nuttiness.
As a result, it's a great treat to have on top of your donut, and it adds some pleasant crunchiness to the soft snack too.
A big contrast to the massive pink donut we looked at earlier, this recipe tells you how to make fantastically bite-sized mini pink donuts!
These are ideal when you want to snack on them a little less, or they're also fantastic for giving out as party food that will keep the guests coming back for more.
Better still, each mini donut has a fantastic pink glazing, which is perfectly cute, colorful and tasty. On top of that (literally!), each donut is topped with sprinkles too to add extra flavor and crunchiness.
There's also a little warm spiciness to each mini donut, thanks to ingredients like cinnamon and nutmeg. These don't overwhelm the donut at all, they just give it a pleasant edge of warmth!
Another fantastic recipe for mini pink donuts, these ones are different in that their coating is a pink lemon glaze this time.
That's right, the colorful pink glaze has a lemon flavoring to it, giving each mini donut a hint of citrus sharpness. Delicious AND refreshing!
The pink lemon glaze couldn't be easier to make, either. All you need is whole milk, powdered sugar, pink lemon juice, and some pink food coloring.
We're finishing our list off with an extremely fun twist on the classic pink donut, with these tasty treats that are modeled after flamingo pool floats!
Obviously, these fantastically designed donuts aren't going to be as easy to make as all the other donuts on this list, but the extra time and effort is worth it! These are perfect for any occasion, but they're an especially perfect pick for a pool party!
Final Thoughts
Pink donuts are perhaps the most iconic donuts there are, with their fantastic taste and bold color! Find the best pink donut recipes with our guide.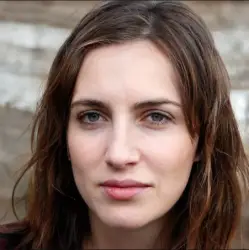 Latest posts by Anna Ingham
(see all)