When it comes to donut toppings, it's hard to beat a classic like a powdered donut. It's simple, it is usually the cheapest, and it gives your baked creations a professional look.
And, of course, it makes your donuts taste even sweeter!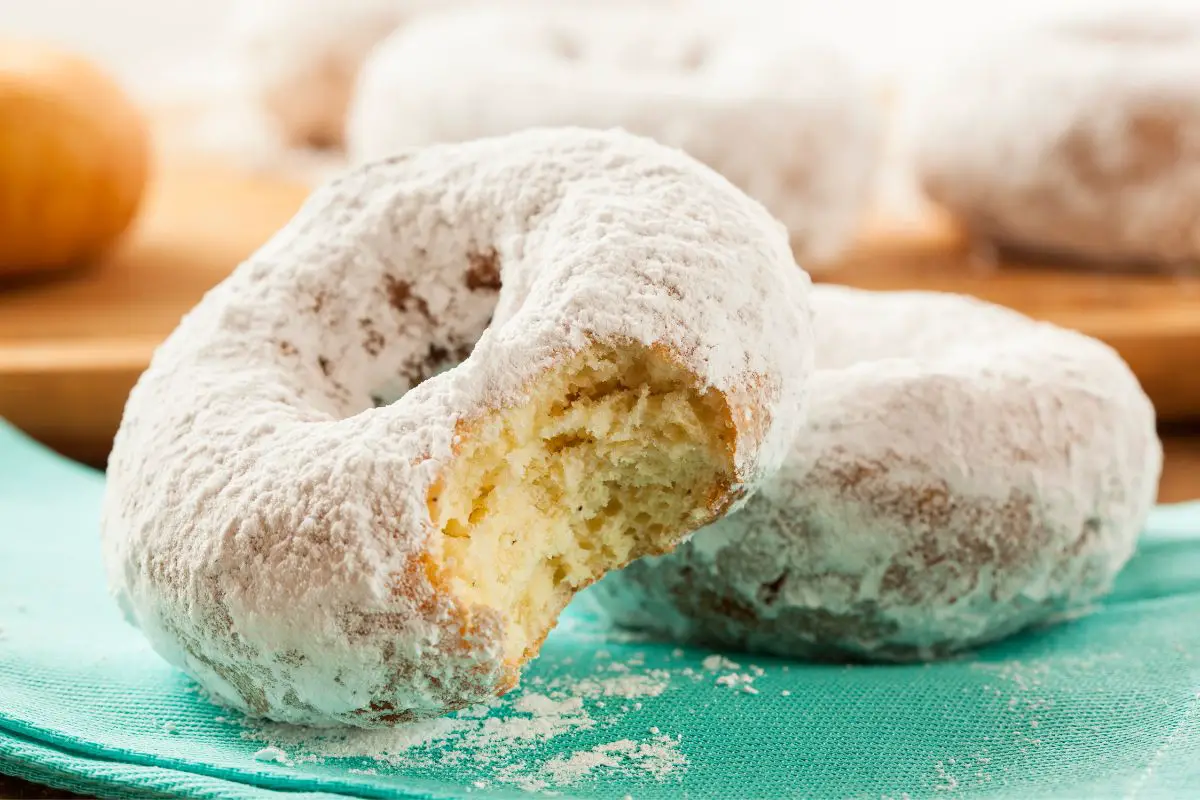 As you might imagine, there are hundreds of great powdered donut recipes out there.
Too many to know what to do with, frankly. After all, how do you narrow down your list of potential donut recipes from a hundred to, say… 11?
Well, by checking out this list, of course!
Seeing as powdered donuts are a pretty old-fashioned recipe, why not start your powdered sugar donut odyssey with this fantastic take on a classic dessert recipe?
Unlike many other donut recipes that you'll find out there, including others in this list, you can make these donuts by baking them, rather than throwing the batter into a fryer.
The result is a donut that is soft to bite into, with a light, fluffy texture to go along with it. Only here, you can avoid a lot of calories and saturated fats that often go into a fully fried donut.
Just make sure that you don't beat or mix too much before filling up your donut trays. You want your donuts to be fluffy, not gooey and chewy!
As we said before, powdered sugar donuts are a very popular recipe when it comes to donuts, especially ring donuts.
So, there are quite a few recipes out there that you can draw from for a classic powdered dessert!
When it comes to actually powdering up your donut, you can either apply the powdered sugar with either melted butter or a light sprinkling of some kind of oil, usually sunflower or vegetable.
Melted butter is going to give your donut a much richer flavor, as well as seep into the soft baked outside of this donut recipe.
However, the light oil can often get the same amount of coverage with a lot less saturated fat, making it a slightly healthier option. You also don't need nearly as much to cover your donuts.
Everyone has a favorite, but both produce a great effect, so don't be afraid to try out both with your donuts, or perhaps some other powdering ingredient altogether!
One of the things that often puts people off trying to make powdered donuts (or baking in general) is that it can feel quite a labor and time-intensive.
However, if you find the right recipe, you can often have your donuts go from batter to beautiful donuts in just a few minutes, especially if you opt for a fried recipe.
This is where you'll find frying your donut batter has an advantage, as it can take as little as 2 to 3 minutes to finish cooking once the batter is proven, as opposed to the 15 to 20 minutes that baking takes.
Just make sure that you have your oil hot enough before you toss in your donuts. Too long soaked in oil, and your delicious donut can be ruined in minutes!
Yeah, we're covering another easy-to-make donut recipe.
What can we say? We like a recipe that is easy for anyone to try, and makes baking accessible to everyone!
Plus, this ball-shaped donut recipe means that you don't have to worry about buying or making a tailored mold for your batter to go into.
As we said, taking the right steps out can make any recipe easier, while not ruining the end-baked product!
Of course, feel free to use one if you have it handy!
Plus, this recipe can be used for either baking or frying, depending on whether you want to make your donuts healthier or not, or if you have the right equipment.
Look, we all love a big-old ring donut from time to time. But sometimes, not only are they too much for one person, but they aren't exactly ideal for bigger parties and gatherings (unless you've got a truck-load of batter, of course.
These particular donut balls are the perfect palm-sized pieces of sweet delight that are ideal for presenting at any party. Dense, the perfect crispy outside, and gorgeously soft inside.
If you're looking to add a little extra flavor to these donuts besides the regular vanilla, make sure that you add just a dash of cinnamon to the batter.
Remember, when it comes to confectionary flavors in the kitchen, cinnamon is your best friend behind vanilla!
Most of the recipes that we have covered so far have been vanilla or some variation.
Perfectly fine, and a favorite for good reason. But sometimes, you want to add a different kind of sweetness to your life, you know?
This is why we were glad to find this cocoa-infused chocolate powdered sugar recipe!
This is also a phenomenally easy chocolate donut recipe to pull off, as these round little guys are not only an easy shape to make, but are baked too.
So there's no need to fork out for a donut tray or a fryer for these tasty treats!
It's like we already mentioned in one of our other entries: Sometimes, you want to make 6 or 8 big donuts to enjoy as the perfect dinner table dessert.
And sometimes, you've got to prepare 30 to 40 donuts for a party.
In those cases, it's hard to deny just how handy mini powdered donut recipes like this one are!
To be fair, this particular recipe makes around 20 donuts at most. Still, it's just a simple matter of doubling your ingredient total!
And the results speak for themselves. These miniature, slightly flattened donuts are a delight to chow down on, and very moreish too!
Time for a recipe that's a little different from what we've covered so far.
Biscuits are an often overlooked kind of confectionary in our eyes, so we figured that a recipe that does something new and novel with it would be a welcome change for other people too.
And, with this recipe that turns your classic biscuit into the perfect crumblier donut, we think we're on to something!
This recipe does cheat a little by using pre-made biscuit dough. That is a totally fine option for this recipe, of course.
But if you're looking for the freshest possible biscuit donuts, we would recommend making the dough from scratch. This recipe is a great starting point if you want to make it yourself.
Pretty much every powdered donut recipe that we've covered is a ring donut recipe. Given that the ring donut is such an iconic dessert, that's pretty fair.
But that also means that we've been missing out on some other amazing donut recipes too, especially when it comes to Jelly donuts, another very popular powdered dessert.
Let's fix that with this next entry!
The light sweet powder ins contrasted beautifully with the sharp, strong sweetness of your jelly of choice here.
You can fill it with your favorite flavored preservative, from citrus marmalade to raspberry or strawberry.
Heck, if you have the right ingredients, a chocolate sauce might be possible too!
The recipes that we have covered so far have all been amazing. But you may have noticed an unfortunate lack of vegan-friendly ingredients and recipes, too.
However, all it takes to make a good powdered donut compatible with a vegan diet are the right ingredients, and a good recipe to follow.
Kind of like this one!
The main trick to making a vegan donut batter is to find the right substitutes. Your milk and butter can be replaced with pretty much any non-dairy alternative, as well as using extracts to help keep the batter moist and held together.
If you're looking to make it keto friendly too, you'll find that using an alternate flour instead of all-purpose will work nicely (again, we recommend almond flour).
So, when it comes to modern, health-conscious kitchens, chances are that a dedicated fryer or deep fryer might not have space in your cooking space anymore.
If that's the case in your kitchen, how exactly do you get that classic fried texture on the outside?
Well, fortunately, there is a newer tool that many people have added to their inventory over the last few years: The humble air fryer!
These inventive little machines aren't just designed for savory foods like steak, fries, chips, and chicken, but are also perfect for baked items like bread, croissants, and donuts too!
Plus, you get that classic fried effect, with a fraction of the oil and calories used, too. It's a win-win, as far as we can see!
Final Notes
We've covered a lot of ground with this list, with a ton of different ways for making your perfect powdered donut. From fried to baked, from vanilla to chocolate, there's plenty to chew on here, quite literally!
So, which recipe will you try out first?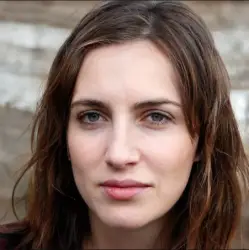 Latest posts by Anna Ingham
(see all)