When it comes to desserts that are served at a wedding, you'd be forgiven if the first thing that comes to mind is the all-important cake!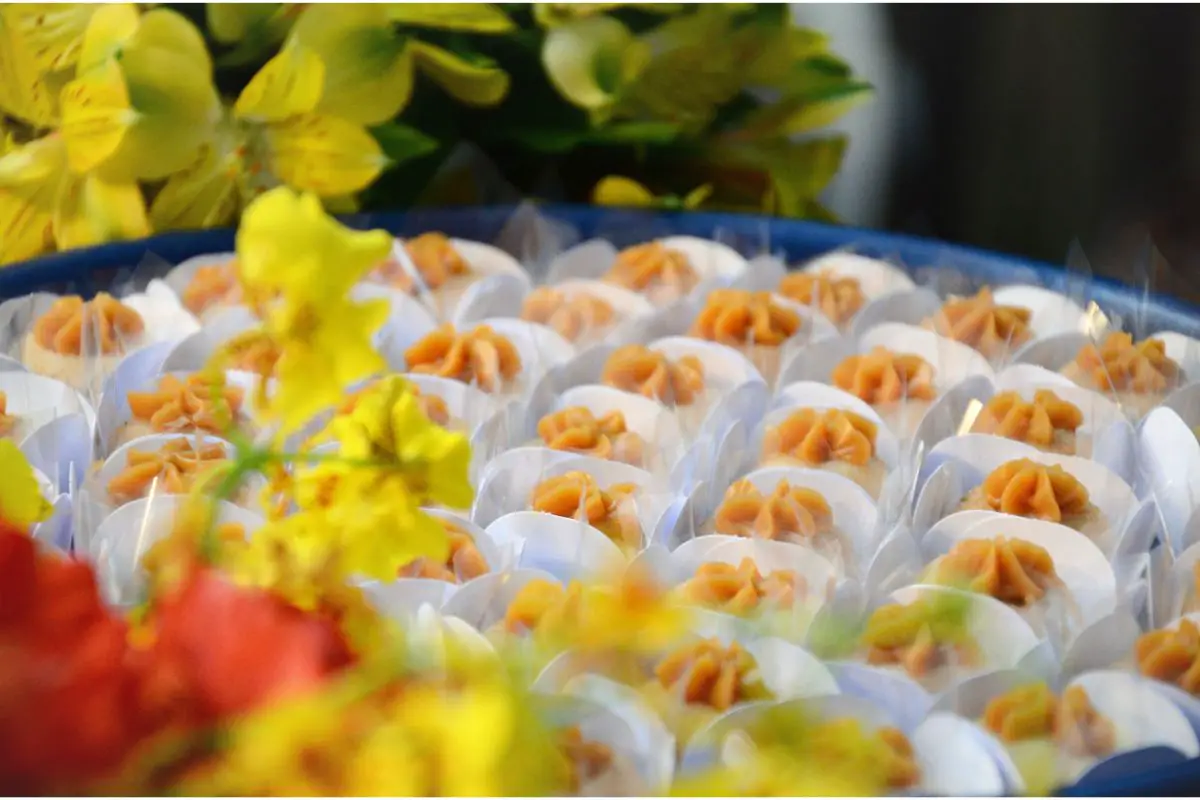 However, there are tons of options that are possible when it comes to desserts for a wedding. 
One particularly popular choice for wedding desserts are mini desserts, as they act as great finger food that guests can pick at whenever they start craving something sweet.
They can also be a fantastic way to create some gorgeous aesthetics with your wedding food, thanks to the pretty way that mini desserts can be displayed. 
With this in mind, we are going to be looking at some of the best mini desserts to serve at a wedding that are sure to make a positive impression and make your special day all the more memorable!
Let's get started. 
Macarons
These delicate and colorful meringue-based confections come in a wide range of flavors and can be easily customized to match the wedding color scheme. 
Macarons are light, sweet and can be filled with buttercream, ganache, fruit jams, or curds.
They are a popular choice for those who enjoy sweets with a crunchy outer layer and a creamy center, as well as a great addition to any dessert table thanks to the gorgeous displays that can be made with these colorful treats.
Mini Cupcakes
Tiny cupcakes are another popular dessert option for weddings, as they are bite-sized, portable, and can be easily customized to suit a wide range of tastes and themes. 
Some popular mini cupcake flavors include the following:
Vanilla
Chocolate
Red Velvet
Strawberry
Lemon
Carrot
Banana
Pumpkin spice
Coconut
Salted Caramel
They can be decorated with a variety of frostings, including buttercream, cream cheese, and ganache, and can be garnished with sprinkles, edible flowers, and other decorations to match the wedding's color scheme and style.
You could also consider incorporating seasonal flavors or flavors that align with the wedding theme or color scheme.
Mini cupcakes can also be arranged on a tiered stand to create an attractive and eye-catching dessert display.
Make sure that you offer a mixture of classic and unique flavors that will allow for a variety of options for guests to choose from.
Petit Fours
Petit fours are bite-sized, decorative confectioneries that are traditionally made of almond paste, sponge cake, and icing.
They can be served at weddings as part of a dessert buffet or as individual treats on a dessert table.
Petit fours come in a variety of flavors and designs, making them a versatile option for adding elegance and sophistication to a wedding celebration. 
Some popular flavor options include:
Strawberry
Raspberry
Lemon
Orange
Almond
Chocolate
Coffee
Vanilla
Hazelnut
Caramel
Petit fours can also be decorated with edible flowers, edible gold leaf, and other elegant touches to match the wedding theme and color palette.
Fruit Tartlets 
Fruit tartlets are a great mini dessert option for a wedding, as they are visually appealing and offer a fresh and light flavor.
They consist of a sweet pastry crust filled with a creamy filling (such as pastry cream or lemon curd) and are topped off with fresh fruit. 
Fruit tartlets can be made in various flavors and sizes and can be customized to match the colors and theme of the wedding.
Cheesecake Bites 
Cheesecake bites are a popular mini dessert option for a wedding, as they are a classic dessert that a lot of people love.
These treats are bite-sized portions of traditional cheesecake that are served on their own or with a variety of toppings such as fruit, chocolate, or sauce.
They can be made in various flavors, including plain, chocolate, fruit, and nut-based. 
Cheesecake bites are convenient, as they can be made ahead of time and easily transported, making them a great option for a wedding dessert.
Mini Pies
Mini pies are a fun, portable, and delicious alternative to traditional full-sized pies. Some popular mini pie flavors include:
Apple
Pecan
Berry (strawberry, blueberry, raspberry, etc.)
Pumpkin
Lemon Meringue
Key Lime
Chocolate Cream
Peanut Butter
Coconut Cream
Mini pies can be served in individual portions or arranged on a platter for guests to serve themselves.
They can be made with traditional pie crust or a crumbly cookie crust and can be garnished with whipped cream, fruit, or nuts to add a finishing touch.
Chocolate Truffles
Chocolate truffles are small, round confections made from a mixture of chocolate, cream, and flavorings.
They are typically coated in cocoa powder, chopped nuts, or melted chocolate and are a popular dessert option for weddings because they are bite-sized, rich, and decadent.
Chocolate truffles can be customized to match the theme or color scheme of a wedding and can be served as a standalone dessert or as part of a dessert buffet.
Shot Glass Desserts
Shot glass desserts are mini desserts served in shot glasses or small glasses.
They usually consist of several layers of different sweet ingredients, such as pudding, mousse, fruit, or a combination of these.
Some popular types of shot glass desserts include:
Chocolate Mousse
Strawberry Shortcake
Tiramisu
Key Lime Pie
Panna Cotta
Caramel Flan
Trifle
Raspberry Cheesecake
Lemon Curd
Peanut Butter Cup
Mango Lassi
These desserts offer a variety of flavors, textures, and colors that can add a touch of elegance and variety to a wedding dessert table.
They are also a super fun and unique dessert that guests can easily grab and enjoy.
Donut Holes
Donut holes can be a fun and tasty option for mini desserts at a wedding.
They're small, bite-sized, and can be served in a variety of flavors, such as glazed, powdered sugar, chocolate, and sprinkles. 
Donut holes are also easy to eat, making them a convenient dessert option for guests who are socializing.
You can arrange them in a tower or display them on a platter, making them an eye-catching addition to the dessert table.
Mini Donuts
Whilst we are on the subject of donuts, mini donuts are just as great of an option.
Much like donut holes, mini donuts are super easy to eat, which makes them perfect for a wedding dessert bar.
Mini donuts can be customized with various toppings, such as sprinkles, glazes, and frostings, to fit the theme and color scheme of the wedding.
They can be served plain or with dipping sauces such as chocolate or caramel. Overall, mini donuts are a fun and playful addition to any wedding dessert spread.
Mini Pastries
This bite-sized and elegant dessert comes in a variety of flavors and styles, with some of the most popular mini pastries including the following:
Mini Éclairs
Mini Croissants
Mini Danish Pastries
Mini Cannolis
Mini Cream Puffs
Mini Strudels
If you want to mix things up a bit, you can also offer some savory pastry options too, such as mini quiches.
This allows you to provide a wider range of foods for your guests, be they sweet or savory. 
Brownie Bites
For chocoholics, brownie bites are a fantastic choice as a mini dessert (see also: 15 Remarkable Mini Desserts For Your Dinner Party)at a wedding!
Brownie bites are small, bite-sized portions of rich, chocolaty goodness that are sure to please any chocolate lover.
Brownie bites can be made in a variety of flavors, including classic chocolate, mint chocolate, salted caramel, and peanut butter. 
Mini Panna Cotta
Mini panna cotta is a stylish and sophisticated dessert option for a wedding.
Panna cotta is an Italian dessert made from a mixture of cream, sugar, and gelatin that is set into a custard-like dessert. 
Mini panna cotta cups can be decorated with fresh fruit, caramel, chocolate sauce, or a sprinkle of cocoa powder for added flavor and visual appeal.
The smooth, creamy texture of panna cotta paired with its delicate flavor makes it a popular choice among brides and grooms.
This dessert is sure to impress guests with its elegant presentation and delicious taste.
Cake Pops
Cake pops are a fun and festive treat, made by mixing crumbled cake with frosting, shaping it into balls, and dipping it in melted chocolate.
They can be decorated with a variety of toppings, such as sprinkles, nuts, or drizzled chocolate, and can be customized to match the wedding colors or theme. 
They are a great mini dessert, but they can also be an alternative to a traditional wedding cake that offers guests a fun and delicious take-home treat.
Final Thoughts 
When choosing mini desserts for a wedding, consider the couple's personal tastes (if you aren't part of the couple yourself!), the season, the guest's tastes, and the overall theme of the wedding.
It's also important to consider any dietary restrictions of the guests, such as gluten-free or vegan options.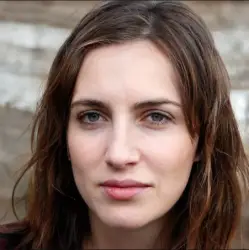 Latest posts by Anna Ingham
(see all)