German cuisine has so many delicious dishes, from spaetzle and beer to sausages and sauerkraut.
But there is much more to German cooking than savory treats. Traditional cakes and cookies are a staple of German culture.
Enjoy the traditional Oktoberfest or German Christmas with the delights of these 18 scrumptious German cookie recipes (see also: 15 Scrumptious Eggless Cookie Recipes You Will Love).
Spice cookies are a traditional cookie recipe from Europe. In Germany, these ginger and cinnamon cookies are known as "Spekulatius".
Spekulatius cookies typically come in the shape of a windmill but you can find them in other shapes as well during the festive season.
These spicy cookies are crunchy and thin. They have a caramel flavor that works well with a coffee or hot chocolate.
Lebkuchen are one of the most popular Christmas cookies in Germany. Their soft texture combined with a sweet vanilla glaze and warming spices make this cookie a festive delight.
Also known as "Elisenlebkuchen" in some parts of Germany, these cookies contain almonds and hazelnuts which means they have a mild, nutty flavor.
They are also lightly spiced with allspice, nutmeg, cloves and cinnamon. All these tasty Christmas spices are perfect to warm you up on a cold winter day.
Nut corners, known as "Nussecken" in Germany, are made from thick layers of shortbread, caramelized hazelnuts and apricot jam.
In addition, these super sweet nut corners are also dipped into warm, dark chocolate to make them even more tasty.
Soft and chewy, you can serve these triangular cookies for a special occasion or simply enjoy them as an unusual weeknight dinner dessert.
German vanilla crescent cookies, simply known as "Vanillekipferl" in German, are a popular holiday confectionary served for Christmas.
They are so tender and still packed with plenty of nutty flavor. Vanillekipferl have the shape of a crescent moon which makes them look like a tiny, soft croissant.
What makes these lovely German cookies so unusual is not just their shape but also their wonderful vanilla flavor. 
Spitzbuben are sweet jam between two layers of almond shortcrust pastry. These chewy, sweet sandwich cookies are often made into shapes for Christmas.
Plus, the top layer usually has a heart-shaped hole filled with delicious strawberry jam. This makes Spitzbuben the perfect Christmas cookies.
Plus, you can make them in bulk, so you can easily feed the whole family.
These cookies are sure to knock your socks off. If you like Nutella, you're going to fall in love with these cookies. 
They taste like butter cookies, but even better because of the hazelnuts. The nuts get toasted as they bake, giving them an even deeper flavor!
These guys are proof that chocolate doesn't always have to be the star of every dessert. 
Marzipan is one of the most popular ingredient for cookies and sweet treats in Germany and other European countries.
German marzipan cookies, also know as Bethmännchen, are well known for their chewy center and a crispy outside.
While these cookies are most popular around Christmas, you can make them any time of the year.
Known as "Zimtsterne" in Germany, these tasty, star-shaped cookies are full of flavors. With cinnamon and almonds, they also have a sweet sugar glaze on the top.
Zimtsterne are a popular gift for Christmas because they are so scrumptious. This being said, you don't have to wait for your cinnamon cookie gift.
Just make these spiced cookies yourself. You just need almond flour, cinnamon, powdered sugar and egg whites.
If you want to make a boozy cookie, then you can also add some traditional German fruit brandy, known as "Kirschwasser".
Known as "Pfeffernusse" in Germany, German pepper nut cookies have a round shape and they are covered in brown sugar and molasses.
While they are super sweet, they also contain a great variety of spices, including allspice, cloves, star anise, cardamom, nutmeg, cinnamon and black pepper.
Although this sounds a lot, there is a good balance between the different spices. This makes them smell and taste wonderful.
Thanks to all the warming spices, pfeffernusse are popular throughout Christmas.
Another special marzipan treat from Germany are small horn-shaped almond treats. 
Known as "Mandelhörnchen", these divine cookies are made with sugar, almond meal and plenty of marzipan.
Topped off with chocolate and almond flakes, these German dessert cookies are quick and easy to make.
Chewy and soft on the inside, spingerle cookies are beautifully crunchy on the outside. They have a pleasant star anise flavor.
Originally from Southern Germany, these Swabian cookies are named after their interesting rising behavior. "Springerle" translates as "little jumpers" in German.
You will need to use ammonia to make these sweet cookies rise. This is fairly unusual in German cuisine.
However, this is the traditional way they were made. Bakers used ammonium bicarbonate in the past to help cookies and cakes rise.
With the modern alternatives, baking powder and baking soda, we don't often use baker's ammonia anymore today.
However, it's a good idea to use the traditional ingredients to get a real German feel – and taste!
Springerle cookies are traditionally served for Christmas when they would be embossed with different festive designs.
Spritz cookies get their name from the German word "spritzen" meaning "to squirt". This refers to the cookie press that you need to use to make the amazing shapes.
But the pretty shapes are not the only thing that gives German Spritz cookies a festive feel. They have a buttery texture and a sweet, soft filling.
You can whisk them together in just a few minutes. If you make them in bulk before Christmas, then the whole family can enjoy these new favorites.
Heidesand is a traditional German shortbread cookie. Made with browned sugar, these tasty cookies are super easy to prepare.
While they are popular for the festive season, you can make them at any time of the year. Plus, you only need a few basic ingredients to whisk these German delights together.
While we often associate macaroons with France and French desserts, the Germans have their own macaroon recipe.
These tasty macaroons combine caramel, coconut and chocolate. In fact, there is plenty of chocolate in these tasty treats.
You can even cover the entire macaroon in warm chocolate and enjoy them immediately. If you like, you can also add your favorite topping, such as hazelnut flakes or coconut flakes.
What makes these coconut macaroons so unusual is the contrasting texture between the finely grated coconut and the melting chocolate.
You may be more familiar with Mexican wedding cakes or pecan snowballs. Kipplens is the German version of these delightful sweet desserts.
Kipplens cookies have a gooey, soft texture but a mildly sweet flavor. Covered in powder sugar, Kipplens are traditionally served over the holidays.
Whisk these holiday cookies together in just half an hour. You only need basic baking ingredients that you can find in your pantry.
Known as "Haselnussmakronen", these sweet macaroons are full of hazelnut and nutty flavor. They are chewy on the inside but crisp on the outside.
This German cookie recipe is one of the most simple one on our list. You only need a few basic ingredients, including eggs, vanilla, cinnamon and hazelnuts in different form.
If you want to use up your hazelnuts, then this is a tasty way of clearing your pantry.
German shortbread is popular and you can make it with a great variety of ingredients. The traditional walnut shortbread is a popular German Christmas cookie.
They are so easy to make that you can whisk together a big batch and store them away throughout December.
You can make them whatever shape you want, from stars to reindeer and Santa.
Linzer cookies have a beautifully warming flavor, thanks to the cloves and cinnamon. The sweet jam and buttery texture create a delicious contrast to the spices.
These cookie sandwiches allow you to use up any type of fruity jam that you have available, from raspberry jam and strawberry jam to apricot jam.
Frequently Asked Questions
Is Gingerbread And Lebkuchen The Same?
Although Lebkuchen is often translated as gingerbread in English, they aren't actually the same.
Lebkuchen is soft and full of warming spices, while gingerbread is flat and similar to the traditional cookie.
What Is The White Stuff On The Bottom Of German Cookies?
The papery, white thing you can find on the bottom of some German cookies are known as "Oblaten". They are simply thin wafers.
Why Are They Called Lebkuchen?
The word "Lebkuchen" comes from the Latin word "libum" which means sacrifice cake. Over time, this changed into "Laib" meaning bread.
Final Thoughts
German cuisine is not just known for savory delights but also plenty of scrumptious cookies that your family will love.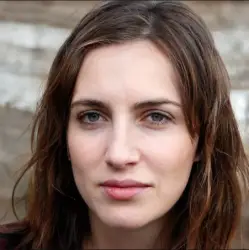 Latest posts by Anna Ingham
(see all)