Funfetti cakes (also called confetti cakes) are delicious and easy cakes that most people will have had at one point or another – probably a birthday party!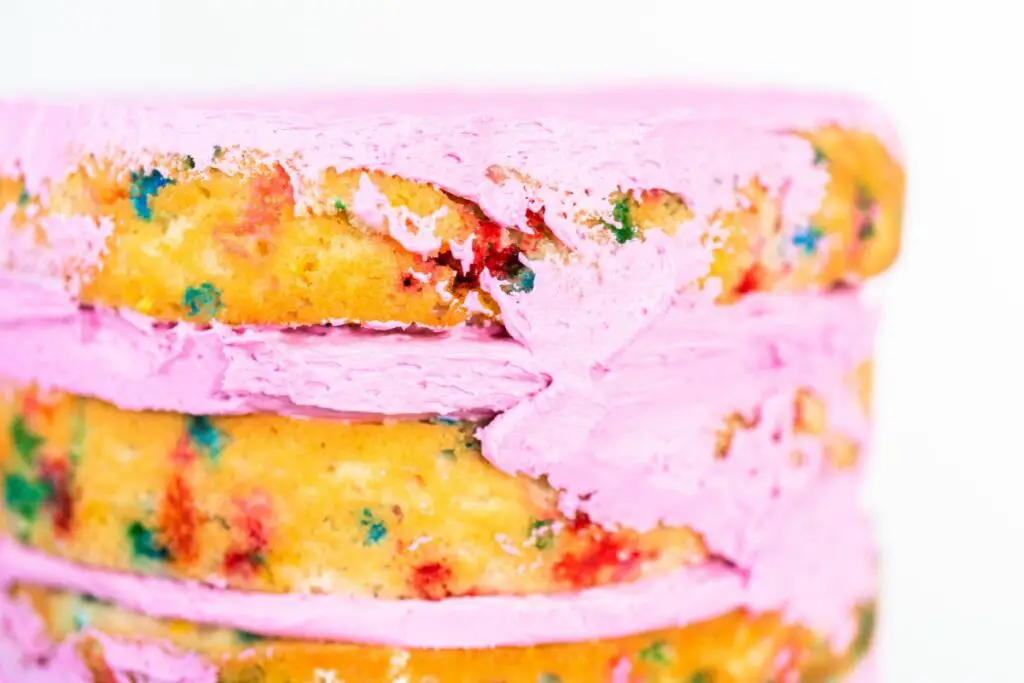 These cakes are usually made from a flavorful and buttery vanilla sponge with sprinkles mixed into the batter. The top is usually spread with a creamy layer of vanilla buttercream, but this can vary from one recipe to another! 
The good news is: funfetti cakes are usually super easy to make, and sheet cakes are even easier! Anyone can make them, so long as you stick to the recipe! 
If you are just looking for the go-to funfetti sheet cake, this is the recipe for you.
It has all the classic flavors that you would expect from a funfetti cake, with warm vanilla flavors and a smooth vanilla frosting that pulls everything together.
It's hard not to love a recipe that is this simple, but it always works. The cake only needs to bake for around 25 minutes, too, so it's great if you don't have a lot of time to spare. 
Looking for a vegan funfetti sheet cake recipe that doesn't disappoint? This delightful option is going to be a game-changer, and it is so easy to make!
There is nothing complicated about this cake, and no one will even know it is vegan until you tell them – it will be that good.
You could stick to using food coloring, or you could add some friend strawberry or raspberry powder into the frosting to add even more flavor. 
This funfetti sheet cake offers something a little different! If you love lemon blueberry anything, then this cake is going to be a real winner for you.
You can use blueberry pie filling to create a juicy and sweet layer, and top it off with a lemon curd frosting to really pull it together and create an unforgettable dessert.
This could be your new favorite, and we wouldn't even blame you. 
The buttercream meringue frosting in this recipe pulls everything together beautifully, and it's so easy! You could even purchase some premade frosting if you need to keep the time down.
The recipe itself is super simple and easy, so you know you can get it done in no time and always get fantastic results.
You only need to bake the cake for around 30 minutes, so this is a winner when you don't have a lot of time.  
Looking for a ridiculously funfetti sheet cake to make for a birthday party? Why not try this one – it's in the name!
You don't need anything special to get the job done, and you could even use a premixed cake mix if you need to cut the time down even more.
The icing for this cake is super easy and quick, so anyone can do it (and help you out in the kitchen).
This delightfully refreshing funfetti sheet cake with raspberries is exactly what you want on a warm day.
The buttercream frosting is made with heavy cream, vanilla bean paste, dried raspberry powder, and a handful of other basics to create this beauty.
You could even add some of that dried raspberry powder into the cake mix itself if you want to boost the flavor!
Sometimes, you just want a simple funfetti cake to dig into. This really good funfetti cake is exactly that, strawberry-flavored cream cheese frosting to really pull everything together.
There is nothing not to love about this recipe, with its simple ingredients and quick baking time, it's impossible to go wrong with a recipe like this.
The good news is, a recipe like this is perfect for getting everyone else in the house involved, too! 
This delightful strawberry vegan funfetti sheet cake is everything you could ever want and so much more! Made with vegan milk and vegan sour cream, you will be wanting for nothing.
All the perfect flavors are right there. The strawberry frosting is a delicious mix of freeze-dried strawberries and all the basics to make something with a delightful and potent flavor.
You could also use strawberry preserve or something similar if you prefer!
The brown butter frosting in this recipe pulls it together beautifully and adds something fun and interesting to a classic recipe.
This recipe is wonderfully straightforward and the cake itself only needs to cook for around half an hour. This gives you plenty of time to enjoy the celebrations that you are baking this cake for!
Who says funfetti cakes should predominantly be vanilla? This super easy chocolate funfetti cake can be made with a boxed cake mix, or you can use a regular chocolate cake mix from scratch!
Adding the instant pudding mix to the cake and the chocolate whipped frosting really bumps this recipe up a notch to make something that everyone at the party is going to love. 
Looking for a funfetti sheet cake with a little difference? This banana option is going to blow you away, and you only need to bake it for around 30 minutes!
Simply mash two bananas to add to the mix, and it will make all the difference.
This is going to be a twist that everyone falls in love with as soon as they taste it, so be permeated to answer a lot of recipe-related questions! 
The strawberry buttercream is simply to die for in the recipe! It is made with strawberry preserve and extract, but you could probably use fresh strawberries if you like, too – just be careful with the consistency!
If you want to make this dessert extra strawberry-y, feel free to add some strawberry extract to the sponge! That could make all the difference and turn it into something completely new and exciting. 
So easy, so simple, and so tasty! This easy vanilla funfetti cake is exactly what any birthday party needs, and you hardly need any time to make it at all.
The icing is a simple mix of margarine, icing sugar, vanilla essence, and a little milk, and the sponge is as easy as ever. It only needs to bake for around 25 minutes, and you are good to go. 
By now, you know all the basics of making the funfetti sponge, right? What makes this recipe so fantastic is the raspberry frosting that you can make for it!
Pair it with some real raspberries, and you have a cake that you are going to want time and time again.
The best part is, this frosting is made using real raspberries! Feel free to top the cake off with raspberries too – that would be a real delight, don't you think? 
Okay, this one might not technically be a funfetti cake, but turning it into one is easy! We just had to include this option for the delicious fudge frosting!
This frosting really kicks it up a notch to create a simple and easy cake that everyone is going to want more of.
We would definitely suggest following the recipe there and adding even more decorations to the top of the cake…worth it!
Final Thoughts
Funfetti sheet cakes can be a lot of fun, especially when you step out of the traditional vanilla-on-vanilla.
When you start experimenting with different variations – whether that is in the flavor of the sponge itself or the frosting – you can have even more fun! 
Most recipes can be altered to be vegan and gluten-free, though it might take some extra work. However, we have tried to include something for everyone here, so you have plenty to choose from. 
Just so you know… If you really want to have an easy time with a funfetti cake, you could always purchase a cake-premade mix. This will speed things up, so it's great if you don't have the time to measure everything out yourself. 
If you do choose to use a premade mix, make sure you swap out the water for milk! This will step the cake up and make it restaurant-worthy. 
However, if you would like to make a funfetti cake from scratch, we have put together a list of some of the best recipes you could ask for. Let's dive in.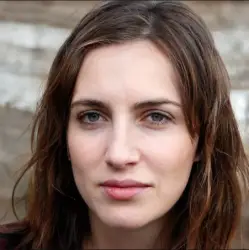 Latest posts by Anna Ingham
(see all)