When it comes to planning a wedding, there are many details to consider, including the cake. A painted wedding cake is a unique way to make your special day even more memorable.
With the right supplies and instructions, you can create a stunning cake with an array of colors and designs. 
Whether you're looking for something whimsical or classic, here are some amazing-painted wedding cake recipe ideas you can try.
Nothing can beat the deliciousness of a homemade marble buttercream cake. This stunning dessert is a timeless classic that is sure to be a hit at any event. 
The combination of the light and creamy vanilla sponge, topped with luxurious chocolate buttercream, creates an absolutely irresistible flavor that no one can resist.
This beautiful cake is both easy and fun to make – all you need are just some basic baking skills, plus some creativity to decorate it.
And best of all, when you bake it at home, you know your cake will be packed with delicious natural ingredients that everyone can enjoy. 
Whether for special wedding occasions or every day, this marble buttercream cake will always be the star of the show!
As spring approaches, it's almost time to start thinking about all the wonderful recipes for weddings. A cake that stands out is this painted buttercream carrot cake. 
Not only does it look absolutely stunning with its vibrant colors, but it also tastes delicious with its cream cheese frosting.
The best part of this recipe is that anyone can make it! It's easy enough for beginners yet still sophisticated enough to impress any guest.
This festive and colorful cake is sure to be a hit at any gathering. All the ingredients can be easily purchased from your local grocery store, and pantry staples like butter and eggs are necessary as well. 
It takes under an hour to prepare, so no matter how busy you are during the season, you can make the most of your time by making this delicious cake. 
Nothing compares to the mouthwatering beauty of a Marie Antoinette cake. This classic dessert is favored by many bakers as it combines two airy layers of puff pastry with a sweet and creamy filling. What a unique idea for a wedding!
Each layer is generously stuffed with freshly whipped cream that is then topped off with lots of colorful fruit for a flavor punch. It's a heavenly combination that'll surprise and delight your guests at any gathering.
Making this delightful cake is surprisingly easy, and provides you with the perfect finishing touch to any dessert occasion. 
You simply need to whisk together your ingredients to create the delicious filling, lightly brown the puff pastry forms, then top it off with rich cream and fresh fruits. An added bonus? It can be made ahead of time.
So next time you're planning a wedding, think about giving the traditional desserts a break for once and try out an exquisite Marie Antoinette cake – your taste buds won't regret it!
A wedding day can be made so much more special with the addition of a beautiful and delicious cake. A burgundy peony-decorated wedding cake is the perfect choice for a fall wedding, with its luxurious deep shades and stunning floral topping. 
The peonies in this design will add elegance and timelessness to the celebration, enhancing the atmosphere of the event. They will also show guests how much thought was put into making every aspect of the wedding special.
The recipe is fairly simple, so baking novices will feel comfortable tackling this masterpiece. 
This cake is made up of classic vanilla sponges filled with white chocolate ganache and adorned with homemade burgundy-hued rose petals, which are then covered in buttercream frosting for a chic finish. 
This stunning black-painted floral cake will make a bold statement at any wedding event. With just a few simple steps, you can easily create a unique and beautiful cake that your friends and family are sure to be impressed by. 
The stark contrast between the black icing and the white flowers adds an elegant touch that you won't get from any other kind of cake.
The best part is that it's surprisingly easy to make! You don't need any special decorating skills to create this masterpiece; all you need is some patience and steady hands. 
For those looking for an opulent and show-stopping idea for their gold wedding cake, here is a top option to think about. 
One such idea is to use edible gold paint or leaf the edges of the cake tiers with real gold. This style oozes glamour and makes a statement about your day – adding classic touches such as this can take your big day from great to unforgettable.
Another great alternative that has become increasingly popular in recent years is metallic accents. With this style, you can achieve a more subtle look to create an elegant and classy vibe while still celebrating that special occasion. 
This year, why not switch up tradition and go for something truly special? Between the bright colors of tie-dye and the bold flavors of classic desserts, this wedding cake idea is sure to be the trendiest addition to any celebration. 
An ombre technique starts off the cake's hippest look. Tie-dye frosting is piped onto the white fondant base, creating an exquisite egg motif with swirls in all shades. 
On top of this eye-catching design sits a unique buttercream cradle, which sits an impressive collection of pastel-colored jelly beans and Peeps marshmallow shapes.
Once the masterpiece is complete, start slicing away! The first bite reveals a decadent combination of moist yellow cake layers sandwiched together with strawberry jam and vanilla custard. 
Watercolor cakes are the perfect way to show off your baking skills, no matter your artistic abilities. If you're looking for an easy and exciting way to make beautiful cakes, watercolor cakes are the way to go! 
With just a few materials and steps, you can create gorgeous watercolor cakes that look like a masterpiece.
To start your project, you will need some stencils. 
Once you have chosen your design and cut out your desired stencils, it's time to get started on decorating. 
Spread a layer of white buttercream over the cake, then use food coloring to paint with thin strokes around the edges of each stencil. 
Once you have filled in the pattern with color, press down slightly into the buttercream for a more intense color. 
Don't forget to take breaks in between each stroke of color to allow it time to set before applying more layers! 
Buttercream stencils are the perfect way to instantly transform a plain buttercream cake into an eye-catching showstopper. 
They allow us to achieve intricate patterns without the fuss of spending hours piping small details – making it a great way to save time and effort for busy bakers. With just a few simple steps, you can be sure that your cakes will turn heads!
The process is simple. Choose your desired buttercream texture based on the pattern you want to create, apply a thin layer over the cake using an offset spatula, then press in a stencil gently against the surface. 
You should use circular motions with light pressure; if it bleeds or breaks through, this can easily be managed with a toothpick or paintbrush shortly after application. 
To finish, simply remove the stencil and admire your beautiful creation! With practice and experimentation, you'll find that buttercream stencils can quickly become an integral part of creating stunning cakes.
Painting oil images on buttercream cakes is an impressive skill that's also deceptively easy to learn. This cake-decorating technique might seem intimidating, but with practice, anyone can produce stunning, unique works of edible art.
Fortunately for beginners, the technique is very beginner-friendly and highly accessible. The first step is to mix a few simple ingredients together in order to create a rich, creamy "paint" that can be applied to any baked good. 
Final Thoughts
Painted wedding cakes are a wonderful way to add a unique and personal touch to your big day. Whether you prefer watercolor painting, stencils, or oil painting, the possibilities for creating beautiful designs are endless.
With practice and experimentation, anyone can learn how to create stunning works of edible art that will impress everyone!
Frequently Asked Questions
Is It A Good Idea To DIY My Own Wedding Cake?
Making your wedding cake can be a meaningful and adorable way to add some creativity to the big day. For starters, taking the time to make your own wedding cake will help you stick to a budget. 
Thanks to the wealth of knowledge in online recipes and baking tutorials, most people can pull off an impressive homemade masterpiece with relative ease.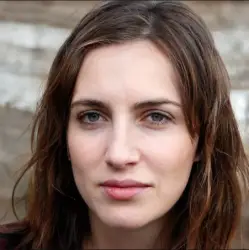 Latest posts by Anna Ingham
(see all)