Is there anybody who doesn't like banana cookies? Banana and cookie dough is a match made in heaven, after all, and the result is a treat that can be a healthy snack or sweet dessert.
The best thing? Banana cookies are easy to make with ingredients that you probably already have right now in your kitchen.
The base ingredients typically involve bananas, flour, and butter, but can also include cinnamon, nutmeg, nuts, oatmeal, and chocolate chips.
And lots more. So banana cookies are as versatile as they are tasty and easy to whip up.
And if you're on the hunt for banana cookie recipes, we've gone ahead and rounded up 15 amazing banana cookie recipes to enjoy today.
The following banana cookie recipes include everything from quick and easy recipes to recipes that involve fun ingredients, so grab your apron and get ready to start baking!
Let's start off with a classic banana cookie recipe that you simply can't go wrong with. As a traditional recipe, it can also be customized! It works well with overripe bananas as well, so it's perfect if you have a few untouched bananas sitting in your fruit bowl.
In total, this recipe will take 45 minutes to make – 30 minutes going to cooking time. The wait is worth it, though, and preparation only involves seven steps. We loved these banana cookies and are absolutely sure you will too.
One way you can effortlessly improve the texture of banana cookies is by adding oatmeal into the mix.
It makes the cookies softer and more chewy, with bonus points when it comes to healthiness. So here's a banana oatmeal cookie recipe that's well worth trying.
You might also be surprised to know that it uses just three main ingredients: rolled or quick oats, bananas, and chocolate chips. Optional ingredients include almond butter or peanut butter, as well as salt. Either way, it's a recipe that won't disappoint. 
Don't be fooled by the plain appearance of these cookies; they're fluffy and soft with extra ingredients, such as cinnamon and vanilla, that give it the right amount of sweetness. The cookies are ready to serve in just seven steps too, so it's quick and simple!
For this recipe, prep time is 30 minutes and baking time is 8 minutes. It also yields a whopping 50 servings, so it's the perfect recipe for sharing around. If you have a sweet tooth, combining sugar and cinnamon is an easy way to make these cookies extra sweet.
It would be a crime to not include a banana cookie recipe with chocolate chips. Chocolate chips are a classic cookie ingredient, needless to say, so this recipe is another one worth whipping up if you have an hour to spare.
Aside from chocolate chips and bananas, the ingredients you'll need include all-purpose flour, baking soda, corn starch, salt, brown sugar, granulated sugar, and vanilla extract. Just follow the eight simple steps and get ready to indulge.
If you like soft cookies in particular, this soft banana cookie recipe will be right up your alley. The recipe also includes cream cheese frosting, which you can use to improve both the taste and appearance! 
What's especially great about this recipe is that it takes just 30 minutes in total – 15 minutes to prepare and 12 minutes to bake. It involves 13 ingredients overall, but you'll be glad to know that most are ingredients you'll already find in your pantry.
Baking is always a fun activity for getting kids involved. So if the kids are bored (or causing havoc), round them up for a fun baking session with this easy kids' recipe for fluffy banana cookies. It's quick and simple, as it only involves three straightforward steps to follow.
The ingredients you'll need include all-purpose flour, ripe bananas, white sugar, butter, one egg, baking soda, and salt. These cookies take 10 minutes to prepare and 15 minutes to cook, yielding 12 servings for the whole family to enjoy.
It's true: banana cookies can be healthy, especially when you keep it simple with bananas, eggs, and oats and tone down the sugar content. So if you're looking to make healthy banana cookies, this recipe is the one to try first.
The main ingredients here are ripe bananas, rolled oats (or quick oats), baking powder, cinnamon, salt, egg, and vanilla extract. To make the cookies more flavorsome, but still healthy, you can even top them with Greek yogurt or melted dark chocolate.
Sometimes thin and crispy is better. And if you're the kind of person who prefers crunchy cookies over chewy cookies, this thin & crispy banana oatmeal cookie recipe checks all the boxes when it comes to taste and texture.
In total, this recipe takes about 30 minutes to make – so it's quick. As a bonus, it yields around 45 cookies! So you'll have lots to go around, perfect for taking to parties or giving away (if you don't eat them all yourself, that is – they taste that good).
Three ingredients? It doesn't get simpler than this! This recipe is also 100% vegan and doesn't include refined sugar and oil, going from kitchen counter to cooling rack in just 15 minutes.
The three ingredients you'll need for this banana cookie recipe are bananas (just two of them), maple syrup, and spelt flour (or all-purpose flour). Adding extra ingredients for toppings, such as dark chocolate chips or walnuts, is totally up to you.
Here's the kind of recipe that your grandma would pass down – a recipe that's been revised to perfection and, of course, created with love!
So if you don't mind taking extra time to pull a few more ingredients together, these old-fashioned banana cookies are worth making.
The ingredients needed for this recipe include all-purpose flour, baking powder, ground cinnamon, ground cloves, ground nutmeg, baking soda, salt, butter, brown sugar, egg, banana, and chopped nuts. And once baked, you'll enjoy up to 50 servings.
Like chocolate chip banana cookies, peanut butter banana cookies are another popular staple. Peanut butter adds a smooth, gooey texture to any recipe, after all, so you should definitely try these cookies if you can never eat enough peanut butter.
The main ingredients in this recipe are bananas, coconut sugar, egg, vanilla extra, cinnamon, salt, and peanut butter. Hey, you can even add chocolate chips for the best of both worlds!
These vegan banana cookies are just as delicious with vegan butter and no eggs. They're also quick and easy to make, requiring 15 minutes of prep time and 15 minutes of cooking time. So as long as you have 30 minutes to spare, there's no reason you shouldn't try this recipe.
In just seven straightforward steps, these cookies are good to go, made from just a few ingredients: vegan butter, white granulated sugar, ripe banana, vanilla extra, all-purpose flour, baking soda, salt, ground cinnamon, nutmeg, and chopped pecans. Simple!
Frosting makes everything better. So why not try this banana cookie recipe that involves a simple but tasty frosting made from butter, powdered sugar, vanilla, milk, and bananas? The whole recipe only takes 25 minutes in total to make, after all!
For the cookies themselves, you'll need sugar, butter, vanilla, bananas, eggs, buttermilk, baking soda, salt, and flour. All in all, if you want to make banana cookies that look as good as they taste, this recipe is the ideal recipe for you.
There's chocolate chip banana cookies, but then there's chocolate banana cookies. And if you're a self-confessed chocoholic, these cookies will hit all the right taste buds – as they're essentially chocolate cookies flavored with banana.
As a result, the star ingredient here is cocoa powder. And if you want to go all the way, you can also add chocolate chips. Prep time is 15 minutes and cooking time is 10 minutes, so you can start tucking in under half an hour!
If you love banana bread and banana cookies, why settle for one or the other when you can enjoy this banana bread cookie recipe instead?
The end result will also impress friends and family, as these really look and taste like a combination of both – cookie-shaped but with a soft cakey texture.
Banana bread cookies might sound hard to make, but the total time is just 24 minutes – 14 minutes of that going to baking time. On top of that, you only need nine ingredients overall!
Conclusion
So there you have it: 15 amazing banana cookie recipes to enjoy today. And we mean today, because the above recipes are simple to make, requiring ingredients you probably already have at home! So what are you waiting for?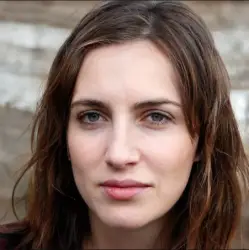 Latest posts by Anna Ingham
(see all)