Christmas is the time for coming together with your friends and family and having a good time. It is a time of gatherings and parties, which means lots of food.
As a result, you need to make sure you have a delicious dessert to serve your guests. 
Sheet cakes are simple to prepare, but they allow you to feed a lot of people at once. If you are looking to try something new this Christmas season, then you have come to the right place.
There are particular flavors that people associate with Christmas, and you can easily put these flavors into sheet cake form. 
In this article, we have found the 15 best Christmas sheet cake recipes which you need to try today.
This may become your new favorite Christmas sheet cake since it is bursting with flavor. Also, the red appearance of the sponge looks attractive and Christmassy. This is one of the moistest cakes you will ever create. 
Surprisingly, a lot of people don't realize that red velvet is just colored chocolate cake. The cream cheese icing helps to finish the cake off in the best way possible.
Overall, this makes quite a large cake, so everyone can have multiple pieces.
If you do have any leftovers, it is important to place them in an airtight container. This will stop it from drying out. 
All the children will enjoy helping you decorate this sheet cake. Anyone could create this shape. All you need to do is cook a couple of sheet cakes and then using a stencil cut out your desired tree shape.
The cake itself is a simple vanilla sponge that is also flavored with a bit of lemon for acidity. Rainbow-colored sprinkles are also added to the batter, which adds a colorful surprise when you cut into the cake. 
Different colored frostings are then created to decorate the tree. A fun and festive bake that the whole family can get involved with. 
This cake is sure to please everyone and will cheer up children of all ages.  The cake is absolutely sweet, buttery, and rich. Combining the cream cheese icing and funfetti cake is delicious bliss.
The cake has a delicate crunch from the funfetti sprinkles and is incredibly moist and fluffy. The cream cheese frosting is incredibly silky and thick.
It is absurdly simple to make. It only takes a few minutes to put the cake batter together. Overall, it's an uncomplicated holiday dessert to bring along to any social gathering.
You can go all out with the frosting on this cake, and it is perfect if you want to show off your piping skills. The frosting is colored the traditional festive colors, which makes the cake eye-catching on any festive table. 
The sheet cake is straightforward to assemble as you only require a handful of ingredients.
Most of the ingredients you will likely already have in your cupboards. It is a simple cake, but you can easily alter the recipe if you wish to add any other flavors to suit your tastes. 
Once fall is upon us, cinnamon is a common ingredient that is seen everywhere. The warming nature of the spice is truly delicious, and it works well in this recipe.
Here, an easy vanilla and ground cinnamon sponge is created.
However, what makes this sheet cake so special is the soft frosting. The frosting is unbelievably light, creamy, and sweet. It also has a gentle warmth from more cinnamon. 
There is no denying that this cake is so delicious, you don't have to be worried about what to do with any leftovers. 
Anything that contains gingerbread is perfect for your festive table. The gingerbread sponge is light and moist, and it is loaded with the traditional holiday flavor. This includes cinnamon, ginger, and allspice.
The cinnamon icing is just as equally ridiculously simple to make. A touch of heavy cream, butter, powdered sugar, and a couple of teaspoons of cinnamon. The last touch is some sprinkles inspired by Christmas.
This is seen as a one-bowl recipe as everything can be created in one bowl for convenience. 
We guarantee that you will adore this cake even if you don't like candy canes.
During baking, the crushed candy that was incorporated into the batter melts. This creates tiny pockets of liquid in the cake that essentially explode in your mouth. 
The cake itself is quite delicious, has a vanilla flavor, and is pretty much foolproof. The simple vanilla sponge and the mildly minty candy canes combine to create a stunning marbling effect that is extremely eye-catching. 
A delectable light gingerbread buttercream is used to top this wonderful easy gingerbread sheet cake. It's the ideal Christmas dessert and is ridiculously simple to make. 
A vegan gingerbread sheet cake is baked with gingerbread men. Then the cake is garnished with more small gingerbread men, holiday sprinkles, and whipped gingerbread buttercream. 
Black-strap molasses, ground nutmeg, and ground ginger give this cake its flavor.
The actual star of the show in this recipe is black-strap molasses, which significantly contributes to the cake's traditional "gingerbread" flavor and texture.
Fresh cranberries are dotted like ornaments throughout the cake batter. This adds a tart burst to counterbalance the rich vanilla cake and sharp cream cheese icing. 
For added shine, cranberries have been sugar dusted and scattered on top as a final touch. 
This flavorful yet minimal cake can be made in under an hour. 
Christmas isn't complete without lots of treats including chocolate. To satisfy everyone's sweet tooth, why not create this rich chocolate sheet cake? The cake is also topped with a creamy chocolate frosting.
For even more luxury all your favorite candies can be added on top. However, to make it more festive, you may wish to add gingerbread men or festive-colored sprinkles.
How you decorate this cake is up to you, but everyone will want a piece of this sheet cake. 
For a lot of people, Christmastime is the perfect opportunity to consume their favorite beverage – eggnog.
You can use eggnog to create this extremely moist cake in a matter of minutes. This recipe is considered beginner-friendly, therefore anyone could make it.
The eggnog provides a slight sweetness to the cake. Yet, the cake itself is made with a simple box mix, thus only a minimal amount of effort is required.  
This festive dessert is loved since it is sweet and colorful. To make a moist and tasty cake that's the ideal treat for the holiday season, combine your preferred boxed cake mix with pockets of lime and strawberry jello.
Poke cakes are easy to prepare, and the bright jello adds more flavor and lots of color to the cake. You can then finish the cake with your favorite frosting. This sheet cake is always a crowd-pleaser. 
This airy and light Christmas tray bake cake is a great alternative if conventional Christmas cake doesn't tickle your fancy.
It is simple to make, easy to decorate, and ideal for slicing into small portions for holiday entertaining. 
It is stuffed full of festive flavor and brandy-soaked fruits. The topping is ready to roll icing which is great if you don't enjoy the flavor of marzipan. 
It's so much fun to prepare and simple to bake this chocolate Christmas sheet bake. Simply combine all the ingredients in a bowl and you're done. 
The chocolate sponge is incredibly moist, delicate, and tasty. The cake can then be topped with a bit of festive Christmas piping to create a Christmas bauble that is both quick and looks impressive.
This sheet cake is for adults as it is full of juicy fruits, plenty of brandy, and a sweet custard that is all baked together. If you have any Christmas cake that needs to be used up then you need to try this recipe for yourself. 
This sheet cake doesn't need to be iced, and you don't need a large portion as it is extremely dense and rich. In 20 minutes this cake is ready and we know you will enjoy every mouthful!
Conclusion 
Sheet cake is a simple way to provide a sweet treat at a large gathering. We have provided you with 15 of the best Christmas sheet cakes that you need to have on your festive table this year.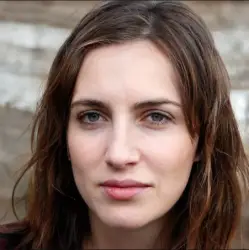 Latest posts by Anna Ingham
(see all)