Who can honestly say that they don't love cookies? Cookies are our kryptonite.
Whether you like them as an after dinner dessert, or as a sweet snack throughout the day, there's a cookie for every occasion.
You just can't beat homemade cookies, fresh out of the oven. But, we often tend to stick to the usual chocolate chip cookies, or oatmeal raisin cookies.
If you're tired of making the same old cookie recipes time and time again, why not try making almond cookies?
Almond cookies are delicious. They are one of the most popular treats in China, but these are also the cookies of choice for Italians, with their version called Ricciarelli.
Both types are different from one another, so we've gathered a range of various cookie recipes for you to try out. 
From gluten free to vegan, lemon to chocolate almond cookies, there is something for everyone on this list!
12 Best Almond Cookies Recipes To Try
The first on our list are these simple almond cookies. This recipe only takes around 15 minutes of prep time and about 10 minutes of cooking time.
These cookies look just as good as they taste, and they're pretty easy to make.
All you will need is some softened butter, a cup of ground almonds, white sugar, one egg, two teaspoons of amaretto liqueur for added flavor, and one and a quarter cups of all purpose flour. 
If you follow the recipe, and have an electric mixer, then the cookies will be light, airy, fluffy, and delicious.
You can also alter the bake time depending on how crispy you prefer your cookies to be! 
If you are a fan of nuts, and you enjoy the delicate and unique flavor of almonds, then you will love making these simple almond cookies.
They are made with almond flour too, almond extract, and are topped with sliced almonds for a nut-tastic delight. 
What we like about these almond cookies is that they are positively bursting with almond flavors in three different forms.
The recipe switches out typical wheat flour for almond flour, which is essentially made from ground, blanched almonds.
The addition of the almond extract adds a sweeter cherry like aroma, but you still get that taste of flaky nutty almonds with the few that you can add on top of the cookies. 
What is nice about these cookies is that if you make them right, you will end up with chewy, yet crispy almond cookies that all can enjoy. 
If you have anyone at home who is gluten intolerant, or lives a gluten free lifestyle, then they don't have to worry about missing out on your delicious baked goods.
You can try making these lovely gluten free almond cookies for them! 
They are both gluten free, and dairy free, so perfect for those who are lactose intolerant too. However, they are not vegan, as they utilize egg whites.
The recipe is pretty simple, all you will need is almond meal or almond flour, caster sugar, egg whites, flaked almonds, and almond extract. 
The result is chunky, bitesize cookies that are filled to the brim with almonds! 
Looking for a simple yet delicious almond cookie recipe? This one will suit your needs. You won't need a stand mixer, but the cookies will turn out great every single time. 
This almond cookie recipe is inspired by a classic Italian soft amaretti cookie recipe.
With a chewy exterior, soft center, and delicious almond flavor, this is a recipe you will want to add to your home recipe book. 
You will only require five ingredients; almonds (of course), sugar, egg whites, all purpose flour or oat flour, lemon zest, powdered sugar, almond extract, and you can add vanilla essence too if you like the taste. 
Simply pop all of the ingredients in a food processor, mold the cookie balls, and place them on a baking sheet before cooking in the oven. It's really that simple! 
If you want to add a bit of interest to traditional almond cookies, then you can try this drizzled almond cookies recipe.
These cookies are light, delicate, and delicious. They will simply melt in the mouth. 
For this recipe, you will need all purpose flour, almond flour, sea salt, baking powder, unsalted butter, almond extract, confectioners' sugar, and some sliced almonds.
For the glaze, you will need just almond extract, water, and powdered sugar. 
What is so lovely about these cookies is the addition of a pinch of salt, which gives it a sweet and savory flavor that provides the perfect balance. 
If you're planning on making almond cookies, then you have to try a traditional Italian almond cookie recipe.
These are called Ricciarelli, which are kind of chewy, with a thicker texture, crispier exterior, and dense, soft interior. 
These cookies are quite similar to a French macaron, but originated in Siena, Italy. They pair perfectly with coffee or tea! 
For this recipe, you will only need egg whites, a dash of lemon juice, almond flour, powdered sugar, a sprinkle of salt, baking powder, orange zest, almond extract, and vanilla extract. 
Soft amaretti cookies are similar to Italian Ricciarelli cookies, with a chewy exterior and a marzipan like interior.
If you are an almond lover, then you will be thrilled with these cookies.
These cookies are called Amaretti Morbidi in Italy, meaning soft in the middle.
They are naturally gluten free, and are made with almond flour, sugar, egg whites, and a little bit of almond extract. 
These Amaretti cookies are a little bit more complex to make, but we promise you they will be worth it! 
Making a short departure from the Italian cookies, we have a French almond cookie recipe for you to try out too.
This recipe is made with one bowl, no mixer, and is gluten free. 
You'll find that these cookies have a crisp meringue-like texture and taste a lot like macarons.
For this recipe to work, you will need to use granulated sugar, powdered sugar, kosher salt, almond flour, egg whites, vanilla extract, almond extract, and more powdered sugar for dusting the cookies. 
You cannot beat a good buttery cookie. These almond cookies are delicious, flavorful, and simply melt in the mouth.
With just a few ingredients to use, these are a simple and quick dessert that you can serve guests…or yourself. 
The almond cookies are crispy, tasty, and covered in icing and flaked almonds for an extra crunch. There is also a little bit of Amaretto liqueur and almond extract for the added flavor. 
Perhaps you like a bit of chocolate in your cookies. Luckily, we've got you covered.
With dark chocolate and almond in these cookies, they are crispy on the outside, and soft and chewy on the inside. 
With a deep and delicious dark chocolate flavor, and the almonds for texture, these cookies are some of our favorites.
For this one, you'll need whole almonds, unsalted butter, granulated sugar, light brown sugar, egg yolks, all purpose flour, baking soda, kosher salt, cocoa powder, dark chocolate, and a little bit of flaky sea salt. 
Most almond cookie recipes include the use of egg whites, which makes them inherently non vegan. So, you can try making these vegan almond cookies.
Instead, this recipe uses flax seeds or chia seeds, almonds, maple syrup, orange zest, almond extract, sea salt, almond flour, and vegan orange dark chocolate. 
For an added punch of flavor and zest, you can recreate these glazed lemon almond flavored cookies.
All you will need is all purpose flour, salt, vanilla extract, unsalted butter, grated lemon zest, almonds, and confectioners' sugar. 
What Are Chinese Almond Cookies?
Chinese almond cookies or Chinese almond biscuits are a traditional Chinese pastry made with mung beans.
They were first called almond cookies because of their shape, but today they are made in a normal round shape, and topped with a single almond.
These cookies are considered a symbol of good fortune. 
What Are Italian Almond Cookies?
Italian almond cookies are called Ricciarelli. These cookies are a traditional Italian delicacy. They are chewy on the inside, and stuffed with a strong, tasty almond flavor.
They often have dried cherries added to take the flavor to the next level.  
Final Thoughts
To summarize, whichever cookie recipe you decide to use, you're sure to enjoy them. Almond cookies are crumbly, soft, and taste so good.
You can bake them for your next social gathering, and we promise you, your guests will be pleasantly surprised, and hungry for more!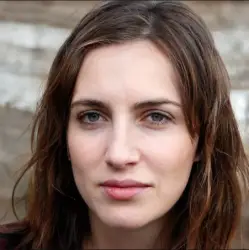 Latest posts by Anna Ingham
(see all)