Butter cookies are a simple type of cookie to try your hand at. They have origins from Denmark, and the most basic recipes only consist of three ingredients.
These cookies are very similar to traditional shortbread cookies. However, a butter cookie has quite a crispy texture.
This is due to the quantity of sugar and butter found within the recipes. 
Due to butter cookies being such an easy and delicious cookie to make, there are various recipes out there for you to try.
In this article, we have collected the 14 best butter cookie recipes that we know you are going to love. 
The fantastic butter flavor and melt-in-your-mouth texture of these crisp, delectable butter cookies will keep you going back for more.
The nicest part about these year-round favorites is that the dough can be prepared months in advance. Then they can be baked for a wonderful treat whenever you want it! 
Although the flavor of these cookies is straightforward, it's crucial to use high-quality vanilla.
You can eat a number of these cookies at once because they aren't overly sweet, but still have a light texture. 
These traditional Danish Butter cookies are absolutely delicious because they are light, crisp, and delicate.
These cookies are the ideal everyday treat because they are made with simple ingredients that you most likely already have in your kitchen.
Danish butter cookies are recognizable by the piped dough that contributes to the swirl effect on top.
This makes sure the cookies are even crispier, while also making them look even more appealing to eat. 
Cocoa butter cookies have a salty undertone, a strong butter flavor, and a deep cocoa flavor.
However, what makes them unique is their flaky texture, which will make you want more. The ideal flavor combination in these cookies is what makes them so delectable.
They are extremely difficult to resist. 
The sugar remains somewhat gritty even after baking since they are baked at a relatively low temperature, which gives the crumbly texture an intriguing bite.
These chocolate butter cookies are ideal to serve as gifts during the holidays. 
Orange butter cookies use a basic butter recipe, yet it is enhanced even more with the addition of orange zest.
This gives these sweet and buttery cookies, a slightly fruity and acidic flavor.
Not only are these cookies really easy to make, but they taste delicious either by themselves or when served with a cup of tea or coffee. 
These French butter cookies, often referred to as sablés in French, may be the most popular type of cookie found in France.
It's preferable to use a high quality salted butter to make these cookies. The butter is the star of this recipe, which makes the cookies have a delicious sweet and salty flavor.
The remaining components are pantry staples that you presumably already have.
Altogether, making and baking these cookies only takes 30 minutes. This recipe tops each cookie with a pretty cross design to make it look even more appetizing.
Any type of butter cookie that you make can be frosted with your favorite frosting. In this recipe, the basic butter recipe is given a facelift with a buttercream frosting, but you could add any glaze or frosting you wish.
This allows you to add even more flavor and another texture to enjoy alongside these soft cookies. 
Frosted butter cookies are really customizable and perfect for any social event or party.
You can adjust the frosting and sprinkles used depending on the event that they are being presented at.
You must use the best ingredients to make true Italian butter cookies.
The key to preparing the best Italian butter cookies is to have dough that is soft without being chewy. It should have a tender crumb, and taste rich and buttery. 
The nicest part is that you can personalize these cookies, and they are incredibly flavorful.
These cookies can be filled with jam, piped into various forms, dipped in chocolate, and topped with almonds or other decorations!
Lemon adds a pleasant acidity to these sweet cookies, which works really well if you are someone who doesn't enjoy overly sweet cookies.
In addition to this, powdered sugar is used instead of granulated sugar to provide the cookies an even lighter texture. 
There is lemon zest in each cookie and a lemon glaze covers each cookie as well. Although, the glaze is optional, depending on how much of a lemony flavor you are after. 
Making these keto butter biscuits is incredibly simple! A hand mixer is used to combine the dough, which is then piped into the desired shapes.
They have a buttery, wonderfully soft center and a crunchy exterior. This recipe needs just six ingredients and can be prepared in about 25 minutes. 
These cookies are delicate and extremely buttery, with beautiful vanilla and almond overtones. Due to the low net carb content (0.8g per cookie), these cookies are suitable for keto diets. 
One of our favorite vegan sweet treats is a batch of these vegan butter cookies!
They make the finest holiday treat when covered with sprinkles and dipped in melted vegan chocolate. They are quite simple to create.
However, it's critical that you accurately measure your ingredients because too much flour may result in an overly thick dough.
There's no waiting around with these cookies, since no chilling is required.
Thus, they are quite quick to make, but you do need to wait for the cookies to cool if you are going to decorate them. 
Almond butter cookies are the perfect alternative if you have a peanut allergy.
These cookies are really tasty, as the almonds provide a nutty flavor which complements the rich butter and sugar.
Almond butter and ground almonds are incorporated into the dough, to help intensify that almond flavor. 
These cookies use a mixture of both white and brown sugar.
This not only enhances the flavor of the ingredients, but helps ensure an even chewier texture. You will enjoy making these cookies all year around. 
Oatmeal cookies are the perfect treat when you are looking for a quick snack to fill you up. The oats are hearty and provide you with a great texture.
Vanilla and cinnamon add a subtle sweetness to the cookies which pairs well with the richness of the brown sugar. 
It is best to freeze or chill this dough, which will make shaping the dough a lot easier later on.
Furthermore, this recipe is more effective when using quick cooking oatmeal, but you can use old-fashioned oats.
You just need to break down traditional oats in a food processor before adding them to your dough. 
Everyone enjoys a cookie when having any kind of hot drink, especially tea. Well, why not enjoy your next cup of tea with a tea infused butter cookie.
These Earl Grey butter cookies are the ideal blend of tea and chocolate that can be consumed all day. 
They have a pleasing crisp and delicate texture with a creamy buttery flavor.
Additionally, these cookies can last a long time, so they are ideal for gifting to friends or family as presents.
No chilling is required, so anyone can easily whip up a batch of these cookies in under 30 minutes. 
This cookie is soft but keeps its shape. To begin with, these cookies are quite crispy after your first bite and will then become quite crumbly.
The combination of caster sugar and cake flour, as well as specific techniques used, results in a cookie with this texture. 
It's crucial to use the finest instant coffee you can get to produce a strong and rich flavor that's still delightful.
Altogether, it will take just about an hour to make these cookies, and everyone will want to try one when they see them present at any coffee morning. 
Final Thoughts
Butter cookies are really simple to make and yet full of bold flavors that everyone enjoys.
Anyone can make butter cookies, as they use a handful of ingredients that many of you probably already have in your kitchen right now. 
We hope you have enjoyed this article. We have given you the 14 best butter cookie recipes that are out there right now that we know you will love.
Thus, the next time you wish to make cookies, give one of these butter cookie recipes a try!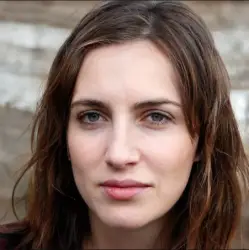 Latest posts by Anna Ingham
(see all)