If you want to add a touch of beauty and glamor to an event, a mermaid cake is the perfect choice for you.
Designed to mimic the appearance of a mermaid, these cakes are often bursting with beautiful ocean colors like blue and purple. As a result, these cakes look almost too good to eat. 
Ideal for a kid's birthday party, these mermaid cakes are truly stunning. Plus, they come in a wide variety of different delectable flavors and colors. 
If you want to make a magnificent mermaid cake, here are some irresistible recipes that can easily be transformed into sheet cakes:
If your child has asked for a mermaid cake for their birthday, it may be worth following this wonderful recipe.
It will allow you to make a dazzling mermaid cake that has been decorated with a doll and plenty of buttercream frosting. 
The cake itself, which is used with a ready-prepared cake mix, is flavored with chocolate. Therefore, it has a rich and sweet taste that kids will love.
One of the benefits of following this recipe is that it comes with advice for adapting this cake so that it is gluten-free.
This is ideal for kids with dietary requirements. Just bear in mind that this recipe is not for a sheet cake, though you can adjust the recipe to transform it into a sheet cake if desired. 
This mermaid sheet cake recipe is truly impressive. Themed after The Little Mermaid, this cake is fantastic for Disney fans.
This cake has been cleverly decorated with fondant toppers, giving it a professional look. Therefore, you are sure to impress anyone who sees this show-stopping cake. 
This cake will look particularly effective when it has been decorated with lettering. You can use this as the perfect opportunity to customize the cake by writing the name of the recipient, alongside a fun message like "happy birthday". 
Ultimately, we recommend that you make this cake if your child loves watching The Little Mermaid.
This decadent dessert is filled with all the beautiful colors of the sea.
The cake has been decorated with rosettes of buttercream icing in shades of blue, purple, and turquoise, Additionally, candy mermaid tails have been added to the cake to finish this effect. 
The buttercream has a subtle vanilla almond flavoring. This pairs nicely with the vanilla-flavored cake. 
This recipe is for a layered cake. However, you can use these techniques to create a scrumptious sheet cake.
If you like fantastically fruity flavors, this recipe is great for you. The cake has a fresh strawberry filling, which is seasoned with lemon juice for extra zest.
This is also paired with an indulgent condensed milk buttercream. 
This cake is eggless, meaning that it is suitable for people with certain dietary requirements. Despite the absence of eggs, this gorgeous mermaid cake has the perfect texture. 
One of the reasons why you should follow this recipe is that it contains plenty of detailed instructions for decorating the cake to fit the mermaid theme.
This includes white chocolate decorations as well as an ombre effect that is used to make the icing look like the sea. 
With its vibrant purple hue, this magnificent mermaid cake is bound to attract your attention. This creamy frosting is incredibly smooth, as well as being aesthetically pleasing. 
The interior of the cake has been decorated with blue and green food coloring. As a result, this mermaid theming is not just on the outside of the cake, but also on the inside. 
Like other recipes on this list, this one does not make a sheet cake. However, it can also be adapted into a sheet cake if desired. 
This stunning mermaid cake is a great match for chocolate fans. It features layers of vanilla-flavored cake, which are stacked together and coated in decadent white chocolate buttercream.
These cakes are luxuriously moist thanks to the addition of this fabulous frosting.
To give this cake a mermaid theme, its exterior has been decorated to appear like scales. These scales will look especially effective when food coloring has been used to give them an aquatic aesthetic. 
Ideal for Oreo lovers, this fabulous Funfetti cake is made with these cookies. As a result, it has a super sweet taste that kids and adults alike are bound to adore. 
Though this cake is a little more complex to make than some of the other recipes on this list, it is worth it if you crave a super indulgent cake.
This recipe makes a three-layered cake that is six inches tall. However, you can easily adapt this recipe so that it becomes a sheet cake. 
If you are searching for a simple but effective mermaid sheet cake, this recipe is perfect for you. It is designed so that even beginners can make it. 
One of the reasons why this cake is so easy to make is that it uses a box mix. Consequently, you won't have to spend ages making a cake from scratch.
Additionally, you can make the sheet cake in whatever flavor you fancy. 
This mesmerizing mermaid cake is ideal for a children's birthday party. You can write the age of your child on the cake as the perfect way to mark their brilliant birthday. 
Do you love ice cream? If so, you will want to make this excellent mermaid ice cream cake. This ice cream cake will be especially refreshing during the summer. 
This sheet cake has been made to look like waves crashing against the sand. To add to the mermaid theme, edible starfish, seahorses, and seashells have been utilized.
Consequently, this cake looks incredibly impressive despite how simple it is to make.
The colors in this cake are truly vivid. The numerous shades of blue give this cake a majesty that works wonderfully. 
Ideal for kids who love candy, this Fruit Roll-Ups flavored cake has a strong sweet flavor. Plus, the cake is bursting with colors, which are sure to be loved by kids.
The cake is packed with decorations that convey its theming. It has been enhanced with sea creature candies and gumdrops.
It can also be topped with a doll that has been decorated to appear like a mermaid. 
Despite the complexity of the decorations, this mermaid cake is straightforward to make. It is made with a tasty cake mix to save time and effort.
You can also easily change the recipe so that it is more akin to a traditional sheet cake.
If you aren't bothered about making a sheet cake, you might want to take inspiration from this mermaid cake. It is made to look just like the tail of a mermaid. 
This cake is ideal for inexperienced bakers, as it is primarily made with white chocolate mud cakes. As a consequence, it will not require much baking experience. 
However, it's best to develop your cake-decorating skills before making this mermaid-themed dessert.
Decorated with a mermaid tail, meringue kisses, and sprinkles, this charming cake is sure to impress anyone who sees it.
To make a more slick and stylish dessert, you may want to follow this dark mermaid cake. This unique aesthetic makes the cake an outstanding option for more sophisticated events, such as anniversaries. 
The cake predominantly uses a dark frosting, which contrasts nicely with the lighter decorations. The purple and teal hues pop against this black background.
The cascading decorations down the side of the cake are incredibly striking. The cream cheese frosting is amazingly luxurious, as it gives the cake a creamy texture. 
This recipe can also be converted into a sheet cake, which is ideal if you have a large number of guests. Rather than making a round cake with three layers, simply make a cake in a rectangular baking pan.
Last but not least, pink is an incredible choice if you want to make an eye-catching mermaid cake. Many kids will adore celebrating their special day with this pretty pink dessert. 
The delicate sponge has been seasoned with vanilla extract for a mild yet enjoyable taste. This cake is then coated in an American buttercream frosting, which has a fluffy texture thanks to the addition of meringue powder and heavy cream. 
The cake has been carefully decorated with a range of different buttercream shades, including fuschia, purple, pink, and turquoise.
The addition of edible sand is inspired, as it gives the cake a sensational seaside vibe.
Final Thoughts
If you want to add a touch of sophistication and glamor to a special event, such as a birthday, mermaid cakes are ideal for you.
Mermaid sheet cakes are particularly great for parties, as you can easily share these cakes with a large number of guests.
Hopefully, these recipes have filled you with inspiration so that you can impress your guests.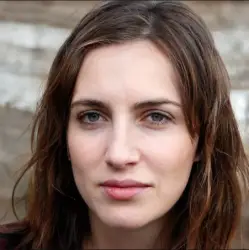 Latest posts by Anna Ingham
(see all)