If you have a sweet tooth but are also trying to make healthier choices when it comes to food, you may be wondering how to make your desserts lower in saturated fat.
Additionally, if you're pressed for time on a regular basis, you might have been looking for ways to speed up the cooking process. 
Luckily, an air fryer is the perfect solution to both of these problems.
Since the average air fryer takes less time to heat up than an oven and also replicates the texture of fried food without the need for so much oil, desserts made with an air fryer can be both healthier and quicker to make. 
In this article, we'll be sharing 15 of our favorite air fryer desserts we think you should try. 
S'mores are the ultimate melty, chocolatey dessert, and they're traditionally enjoyed around the campfire.
However, if you don't have a fire to cook your s'mores over, the good news is that you can make them just as delicious with an air fryer!
All you need to do is put your graham crackers into the air fryer with a marshmallow on top of each one.
Once the marshmallows have started to melt, you can add the chocolate and the top graham crackers and finish the cooking process.
While you would usually either deep-fry apple fritters or, for a healthier option, bake them in the oven, we think the air fryer is the perfect kitchen appliance for this traditional dessert. 
Thanks to the air fryer, these apple fritters are the perfect balance between crispy and moist. Since you won't be deep-frying them, you don't need to worry about excess grease and there's no risk of them turning out soggy.
Did you know that you can make a delicious cake to share with friends and family without an oven? That's right – your air fryer can also be used to bake cakes!
While you can make cakes of just about any flavor using an air fryer, we especially love this air fryer chocolate cake. It's rich and moist and tastes just as good as an oven-baked cake.
That's because the recipe is much the same as any other chocolate cake, consisting of flour, sugar, eggs, buttermilk, cocoa powder, baking powder, oil, and vanilla essence.
If you're in the mood for a delicious, chocolatey dessert but don't want to make an entire chocolate cake, these air fryer brownies are the perfect alternative. 
You just need a brownie pan that will fit inside your air fryer and the ingredients, which are cocoa powder, sugar, baking powder, all-purpose flour, butter, an egg, and a pinch of salt. 
The brownies take just 35 minutes to make from start to finish, including only 5 minutes of prep time, so it's a quick and easy air fryer recipe. 
These cinnamon baked apples are a healthy, autumnal-themed dessert that you'll want to make again and again during the fall – and all year round!
This recipe calls for pecan nuts as the filling for the baked apples, but you can use any nut or combination of nuts that you prefer.
In addition to the sweetness of the pecans, the maple syrup, cream cheese and cinnamon come together to create a warming, comforting dessert.
Who doesn't love pop tarts? We know we do, and if you do as well, you'll be pleased to hear that you can use your air fryer to make some of the best berry pop tarts ever!
These pop tarts are so easy to make using ready-made pie crusts. Just brush some milk onto the edges of each crust after spooning the filling (just sugar and water mixed with your choice of berries) into the center, and top with another crust. 
Once you've done this, the top tarts can cook in the air fryer. When they cool down, you can top them with a glaze made from milk, sugar, food coloring and vanilla extract. 
Cheesecake is a classic dessert, but we love this air fryer twist on the traditional recipe. It's crustless, which means it's a low-carb option.
The best part is that it doesn't take long to prepare and can be cooked in 10 minutes. So, unlike traditional cheesecakes, this is a recipe you can whip up at short notice. 
The only ingredients you need are cream cheese, sour cream, lemon juice, eggs, vanilla extract, and sweetener, so you don't need anything expensive or hard to find. 
French toast is an easy yet satisfying dessert, but it's often very high-calorie because it needs to be cooked in a lot of butter.
These air fryer french toast sticks are healthier because they don't need as much butter, but they're equally as delicious. 
The preparation for this dessert is easy. It just involves combining the milk, cream, and eggs along with the cinnamon, salt and vanilla in a bowl.
Then, you'll dip your bread sticks in the mixture and place them in the air fryer. To serve, drizzle them with maple syrup. 
This recipe is a twist on the classic apple turnover, but it uses a strawberry filling instead of the usual apple, and rather than baking them in the oven, you'll be using your air fryer.
You can use ready-made pastry sheets to speed up the prep time for these turnovers. Other than the pastry sheets, you just need cornstarch, sugar, water, vanilla extract, and strawberries.
It's easy to make batches of smaller cookies in an air fryer, but if you want to make your desserts a bit more interesting, try this recipe for an air fryer chocolate chip skillet cookie. 
You'll need all the regular ingredients you would use to make cookies, including butter, sugar, and all-purpose flour.
You'll also need some semi-sweet chocolate chips. Once you've combined all the ingredients, flatten the dough into a baking pan and put it in your air fryer to cook for about 5 minutes.
Donuts are typically deep-fried, making them a high-calorie option with a lot of saturated fat. These air fryer donuts are much healthier, and they're also easier to make. So, if you're in the mood for donuts, this is the recipe we recommend.
All you need for these donuts are some Pillsbury Grand Rolls, which can either be homestyle or flaky depending on the kind of donut you prefer. Then, for the glaze, you just need confectioner's sugar, milk, and vanilla extract. 
Cinnamon rolls are both a staple breakfast and dessert item, and with an air fryer, you can make them better than ever before!
You'll need to get some butter, sugar, cinnamon, flour, salt, and refrigerated crescent rolls for the buns. The glaze just needs powdered sugar, cream cheese and milk. 
The buns take just 10 minutes to cook, and at less than 300 calories per bun, they're healthier than a lot of the store-bought options out there.
Ever wished you could make your own churros at home? With an air-fryer, you can have perfect churros ready in minutes!
The ingredients in this recipe are simple, including milk, butter, water, flour, eggs, and sugar. You'll also be adding some cinnamon in the sugar coating for that classic churro flavor.
The entire recipe takes just over 30 minutes to make from start to finish, and 8 minutes cooking time in total.
There's nothing like a slice of hot cherry pie when you fancy something sweet at the end of the day, but these mini cherry pies are simple to make using an air fryer and they're just as tasty as an oven-baked pie. 
You can make the pie crust dough from scratch if you want, but they'll taste equally good if you use store-bought pastry cases. Then, you simply need some cherry pie filling to spoon into the pastry cases. 
Finally, instead of using your oven to make banana bread from your old bananas, try using your air fryer next time. 
We think air fryer banana bread is even better than oven-baked banana bread because it stays so moist in the middle while the topping gets deliciously crispy. 
This banana bread cooks in between 20 and 30 minutes. Keep checking on it and doing the toothpick test to know when it's fully cooked.
Final Thoughts 
Many of your favorite classic oven-baked or deep-fried desserts can be made to taste just as good, if not better, in an air fryer! The results are often healthier and can be ready in less time compared to the traditional methods.
Bear in mind that different air fryer models will take various amounts of time to preheat, so factor this into your preparation time when making any of the recipes in this article.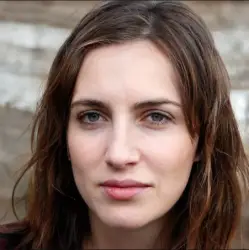 Latest posts by Anna Ingham
(see all)