As everyone knows, traditionally, donuts are deep fried treats, a process that gives them a fantastic texture and flavor, but is pretty awful for our health. 
Next came the baked donut, giving our guilty pleasure snack a healthy makeover, but often at the expense of that quintessential donut essence.
Now, we are officially in the age of the air fryer donut, combining the health factor of baked donuts with the signature flavor and texture of the deep fried classic we all grew up eating far too many of.
And to help you take your fledgling steps into this brave and tasty new world, we've compiled 14 air fryer donut recipes that will blow your mind.
Let's start with something plain but wholly delicious. If you appreciate the simpler things in life, you won't find a better recipe for no-nonsense air fryer donuts than this. 
These are the dirty, oily, glorious, butter-glazed donuts you'd get at a ball game when you were a kid, sans the dirt and oil.
It's the perfect marriage of traditional and modern all wrapped up in a snack.
Give this recipe a try and take a big, fat bite of nostalgia!
This recipe takes it nice and easy too, dialing down as many bells and whistles as possible to simplify your journey from no donuts, to donuts for days!
If you're not much of a whiz in the kitchen, you might want to start your air fryer journey here, and once you've mastered this simple recipe, you'll be ready to try something a little more advanced.
The taste of these donuts isn't too far from those produced by the previous recipe, but they're far more textured, so not all that reminiscent of the classic deep fried donut.
From the simple to the downright rudimentary, we have this magical three-ingredient air fryer donut recipe. Kitchen cupboards looking a little bare?
The fridge a little cavernous? No problem! You still likely have all you need to whip up these tasty donuts.
They're obviously not quite as impressive as the other donuts on our list, but beggars can't be choosers —
If you've got a hankering for donuts but you don't want to head to the grocery store, this recipe will tide you over.
Sometimes a plain or even a glazed donut isn't quite enough to satisfy your sweet tooth, which is when we break out the chocolate!
This air fryer recipe removes all the unhealthy oils from the equation, then adds a little of that unhealthiness back in the form of ample amounts of chocolate — Yum!
And if we were you, we'd go ahead and stock up on lots of chocolate sprinkles to "garnish", for some chocolate on chocolate on chocolate action!!!
Don't worry about spending a small fortune on pumpkin spice Starbucks drinks when fall rolls around. Grab a few cheap ingredients and make yourself some air fryer pumpkin donuts.
Topped with a generous sprinkle of sugar, these donuts really show off the pumpkin's merits, and as the humble pumpkin is a criminally underrated vegetable, we here at Sweethaus couldn't be happier about that fact.
Blueberries are the superest superfood on the planet, chock full of nutritious goodies, including antioxidants, phytoflavinoids, potassium, vitamin C, and fiber.
Combine all this with the zero-oil air fryer heating process, and you've got some of the healthiest sweet treats imaginable, which of course means you can eat more of them — Hooray!
They go down a storm with a cup of Joe, or if you're handing them out to your children as a dinner dessert or a supper snack, might we suggest a pairing of hot cocoa, perhaps spruced up with a marshmallow or two?
Banana is one of the most slept-on donut flavors of all time, and we all need to wake up! Thankfully, this recipe is the alarm clock we've been waiting for. 
As the banana never touches a drop of oil, the subtle flavors remain intact, cutting beautifully through the buttery dough.
What's more, the thick coat of cinnamon sugar these donuts wear makes them both visually appealing and utterly irresistible.
You often see cinnamon mixed with apple and raisin, but rarely is it paired with everyone's favorite long yellow fruit, and it's a crying shame, as they blend remarkably well.
Forget about banana bread (as great as it is), and use all your bananas to make this dynamite recipe!
If you're not much of a pumpkin person, there are other ways to get into the autumnal spirit. Take these magnificent stuffed caramel apple donuts, for instance. 
Nothing says Halloween like a candy apple or two, but nothing says YUM like the essence of candy apples stuffed into a buttery, sweet, fluffy air fryer donut.
As you have to stuff the donuts, it's a harder recipe compared to others listed here, but if you're up for the challenge, your efforts will be well and truly rewarded —
These are hands down some of the best donuts we've ever tried!
Similarly to bananas, we don't often equate strawberries with donuts, even though they're a match made in heaven.
The tart sweetness of strawberries marries perfectly with the savory sweetness of the dough, a flavor relationship that somehow both refreshes and satisfies on a comfort food level.
As quite a soft fruit, strawberries don't fare well when deep fried, but when air fried, their flavor is robust and their texture is rich and juicy.
While the whole sharing is caring motto is absolutely one to live by, you may want to momentarily retire this moral when you take your first bite of these donuts because you're going to want to keep them all to yourself!
Coffee and donuts is an absolutely classic combo. In fact, the original Dunkin Donuts were made with a protruding edible handle so people could dunk more effectively.
But what if you didn't have to dunk? What if you could get a dose of coffee with each bite without a hot drink in sight?
Well, that's what this ingenious recipe is making a reality.
Infused with rich coffee flavor, the donuts produced by this recipe will soothe your soul and raise your pulse at the same time.
Each bite is like a loving hug and an inspiring pep talk, giving you the oomph you need to get through the day.
Okay, let's put coffee aside for a moment because this recipe is all about the BOOZE!
Yep, loaded with apple cider, these donuts pack a scrumpy punch that will knock your taste buds for six.
We'd happily eat a vat-load of these donuts completely plain, but the recipe calls for a dense coating of cinnamon sugar, and We. Are. Here. For. It!
Apple cider and cinnamon are so good together that they should never, ever be apart.
Seriously, cider makers are missing a trick by not spicing their drinks with cinnamon — Try this recipe and you'll see exactly what we mean.
As amazing as loads and loads of chocolate is, sometimes you need a little something to lift the flavor and add a bit of nuance to a snack, and that's exactly the role the peppermint plays in this wonderful recipe.
Yet, as you're using peppermint candies rather than fresh leaves, you don't miss out on any of the sweetness by diluting the chocolate flavoring.
That said, we're also partial to the slight bitterness that cuts through the chocolate when using peppermint leaves. Give both a try, and see what you prefer.
While lemon works well as the sole flavoring of cake, for whatever reason, it's not that popular on its own for flavoring donuts.
Throw some raspberries into the mix, though, and you're onto something!
The raspberries keep the lemon from dominating and making your donuts smell a little too much like your cleaning products.
Air fryer stuffed donut recipes are hard to come by, and that's simply because they're more of a faff, but when the results are as magnificent as these jelly or cream (or both) filled donuts, you'd be a fool not to give this recipe a shot!
The resulting snacks obviously don't have that signature donut shape with the central hole, which may be a dealbreaker for those looking for a more traditional treat, but if you're willing to do away with tradition for the sake of drool-worthy donuts, you're well catered to here.
Final Thoughts
While they may still be a fringe cooking appliance, air fryers are the way of the future for fried food, so expect to see a lot more air fryer donut recipes crop up over the next few years. But for now, these are the best of the best.
Give some a try, and we guarantee you, you won't want to eat donuts cooked in any other way ever again.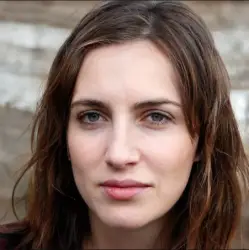 Latest posts by Anna Ingham
(see all)