If you love animals and cookies, why not combine the two? Animal-shaped cookies are a favorite treat for both children and adults alike. 
Whether you're baking up a batch of fun critters for a special occasion or just looking to satisfy your sweet tooth, these animal cookie recipes are sure to make your mouth water. 
From classic sugar cookies to unique creations, we have something for everyone.
The beauty of this recipe is that you don't really need any special skills to make it. All you need is eight simple ingredients, and you're ready to rock and roll. 
The cinnamon accentuates the sweetness of the cookies, but also adds subtle warmth.
This small addition makes a big difference; it gives the classic sugar cookie just enough of a twist to stand out from all the rest. 
Making homemade crackers is a great way to make sure you know exactly what's in your children's snacks. 
We all know how much kids love to see their favorite shapes – like zoo or circus animals – as part of their snack time, and these delicious treats fit the bill when it comes to making sure everyone is happy.
This recipe makes for an enjoyable activity for adults with kids, as you can shape them into different animals together.
Decorate them however you like with frosting or sprinkles once they have been baked before storing them in airtight containers; homemade animal cookies can last up to 3 weeks if stored correctly. 
Animal crackers are an easy and fun recipe to make with the kids. The batter is straightforward, so even young bakers can help out. 
After they're baked, the crackers have a slight crispiness to them and a light sweetness that's enjoyable for all ages.
They can be cut into fun animal shapes using mini cookie cutters or any other size you want.
This is a great way to indulge and stay within the boundaries of a strict ketogenic diet.
The frosting is white chocolate, and when the animal cracker is dipped in it, it tastes exactly like one of that old-fashioned grocery store 'frosted' animal cookies. 
For this recipe, we prefer to use keto-approved chips. This type of white chocolate makes it easy to add food coloring, giving your cookies even more character. 
Circus animal cookies have a satisfying snap to them that sets them apart from traditional baked goods.
Not only that, but they are also topped with a sweet frosting and sprinkles for an extra touch of sweetness.
Serve these treats up at birthday parties or just for snacking around the house. Not only do they look fun, colorful and tasty, but they are amazingly flavorful too.
These homemade animal crackers are the perfect recipe to create some food memories with your little ones. 
These treats might be a little more cookie than crackers, but they are still delicious.
With their small size and big vanilla flavor, these homemade animal crackers make for a great snack that the whole family can enjoy. 
Each of these cookies are made from buttery, chewy dough and packed with colorful sprinkles that add texture and sweetness to the finished treat. 
They look almost too good to eat and bring back memories of being a kid in the summer, under the big top of an old-fashioned circus.
These same beloved cookies can now be found in your own kitchen, thanks to this recipe.
Pink and white frosted Circus Animal Cookies are the perfect way to top off these soft, thick, and chewy sugar cookies. 
Plus, an added layer of homemade white chocolate buttercream makes these pink-and-white treats even more delicious.
Not only do these cookies look absolutely adorable, but they also taste great.
These circus animal cookies are definitely an upgrade from the store-bought selection.
Not only are they delightfully buttery, but they also have a delicious vanilla flavor that comes from the addition of almond extract. 
In addition to having amazing flavor, these circus animal cookies have a lovely melt-in-your-mouth texture that makes them incredibly enjoyable. 
These cookies are the perfect treat for kids and adults alike.
Soft, chewy white chocolate chip cookies mixed with sweet frosted circus animal cookies make a delightful combination. 
The soft pudding mix helps to make these cookies tender and moist, while the creamy white chocolate chips add a nice touch of sweetness.
This unique cookie also features rainbow sprinkles to give them a fun and colorful twist. 
Making your own homemade animal crackers can be a great way to enjoy a tasty treat without the harmful ingredients often found in store-bought options. 
Not only are these snacks fun to make and kid-friendly, but they also provide numerous nutritional benefits that can't be disregarded. 
The first step of making an animal cookie cheesecake is to create an incredible frosted animal cookie crust.
Doing so takes a few attempts until you get it right, but the frosting on the cookies helps it all hold together once melted. 
We found you can use minimal butter for this since the icing acts as a binder to hold everything in place. 
Anyone with a sweet tooth and nostalgia for their childhood knows the unique satisfaction that comes from eating animal crackers. 
These animal cookies aren't overly sweet, but they do taste more like a cookie than crackers. 
Whether you're young or old, eating these treats will surely bring back happy memories and make you feel like a kid again.
One of the staples of Christmas is the tradition of baking cookies.
Sugar cookies are a classic favorite and the perfect choice for making our brightly colored animal circus cookies.
Normally this recipe does not need to be refrigerated before baking, but because we were adding colorful icing and decorations, this time we chilled the dough for two hours to give it some extra hold during the baking process.
Once cooled, rolling out the dough was easy and each cookie held its shape perfectly.
These cookies have a layer of the familiar pink and white cookies combined with just enough blondie batter for an irresistible sweet treat.
The best part about this recipe is that it brings out your inner child.
Not only does it smell incredible, but it also looks like something you have to get your hands on if you ever went to a Carnival or an amusement park. 
This simple, yet elegant recipe makes thick and chewy, fluffy cookies that just melt in your mouth. 
The slight nutty edge comes from the use of the almond extract, while the sprinkles of mini nonpareils give it a festive touch.
As soon as these fresh treats hit your oven, they'll fill your kitchen with an irresistible aroma that you can't help but keep munching on them.
When baking these sweet treats, the Circus Animal Cookies are crumbled into the batter for an extra crunch.
The white chocolate chips pack an extra dose of sweetness and pair perfectly with the vanilla flavor of the cookie dough. 
These Carnival Cookies look just like a carnival or amusement park and offer enough sweetness to satisfy every sugar lover.
Making frosted animal cookies can be a fun and delicious family activity. First, you'll want to make the dough.
To start this process, cream together butter and sugar in a stand mixer or with a hand mixer. This should take no more than 3 minutes. 
The next step is to chill the dough. Making it ahead of time can be useful if you are planning on baking the cookies with kids; that way, you'll be ready to cut out shapes as soon as possible.
These cookie bars are a delicious and eggless treat that will make your mouth water.
The colorful addition of bright sprinkles adds just the right touch.
These bars are then topped with a smooth white chocolate ganache to give them that finishing truffle texture.
This irresistible treat is sure to be a hit. Perfect for parties and gatherings or as an after-dinner dessert, these cookie dough bars are easy to make, indulgent, and simply yummy. 
Final Thoughts
Animal cookie recipes are a great way to bring out your inner child. These recipes are easy to make and can be enjoyed by everyone. 
Each recipe has its own unique twist, from Circus Animal Cookies to Frosted Animal Cookies.
No matter which one you choose, you're sure to have a delicious treat that will make your mouth water. So don't hesitate; get baking these animal cookie recipes today.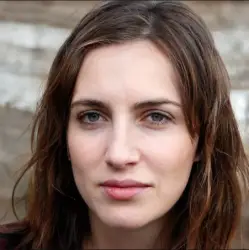 Latest posts by Anna Ingham
(see all)