The smell of gingersnap cookies should remind a lot of people of the holidays.
That delicious mix of cinnamon and ginger enhanced by salt is almost impossible to resist and a batch of these cookies needs some simple pantry ingredients.
The baking soda is used as a leavening agent to create a rise in the cookies while the flour should be sifted with the other dry ingredients.
Soon enough, your favorite gingersnaps can become a tradition every time the holidays come around or at many other times of the year. 
In this guide, we will detail eight of the best gingersnap cookie recipes you will undoubtedly love. This will include family favorites, crunchy ones, thin ones, and even Swedish ones.
Grandma's Gingersnap Cookies
Old-Fashioned Gingersnap Cookies
Crunchy Gingersnaps
Thin And Crispy Gingersnap Cookies
Cookie Jar Gingersnaps
Swedish Ginger Cookies (Pepparkakor)
Soft And Chewy Gingersnap Cookies
Crisp And Chewy Gingersnap Cookies
Trust an old-fashioned recipe passed down by Grandma to be well worth revisiting. You may well even have all of the ingredients in your pantry already.
That includes two cups of all-purpose flour, a tablespoon of ground ginger, a teaspoon of ground cinnamon, two teaspoons of baking soda, and half a teaspoon of salt.
Make sure that you give the dry ingredients more than one sieve, that's one tip passed down from Grandma to prevent any lumps from appearing.
In a large bowl, beat three-quarters of a cup of shortening until creamy then beat in a cup of granulated sugar.
Add the molasses and egg until the dough takes on a brown color and becomes fluffy. Sift in a third of the flour mix, stir, and repeat until fully incorporated. 
Begin to pinch off the dough to create inch-diameter balls to roll in cinnamon sugar and place sparingly on prepared baking sheets.
Bake at 350°F and keep an eye on them as their tops should start to crack after ten minutes though you should swap the sheets on the racks after five minutes.
Once baked, leave the gingersnap cookies to cool completely.
Old-fashioned gingersnap cookies should be great for the holidays but also served as a lunchtime treat dipped into a cup of coffee or tea.
The best old-fashioned recipes typically span over generations, and that's the case for these gingersnap cookies.
Try to source some all-purpose molasses which is typically for cooking as blackstrap molasses will create bitter cookies.
You may even want to grind the ginger and cloves yourself for those fresh-tasting spices that create such a difference.
These crunchy gingersnap cookies are great, whether you decide to dunk them into a cup of tea, a glass of milk, or simply nibble on them during the holidays.
Get your ingredients together and you could have a batch of them ready within half an hour. Preheat your oven to 375°F and prepare two baking sheets with parchment paper.
While the oven is preheating, beat together sugar, salt, shortening, and baking powder then beat in the egg and molasses. 
Sieve in the flour with the ground ginger, cloves, and cinnamon though you add a bit more than directed to make them even spicier.
Once the dough is pretty stuff, create some cinnamon sugar to coat the dough balls before baking. If you want them to remain crispy on the edge yet bend in the center, you only need 11 minutes.
With a couple more minutes, they should be wholly crunchy. Remove them from the oven, leave them to cool and you can store them tightly wrapped in more parchment paper at room temperature.  
Make sure that you leave enough space on your prepared baking sheets for these thin and crispy gingersnap cookies as they will expand.
They will need a little longer in the oven as well to create the deliciously crispy texture while remaining chewy in the middle.
Try to be reassured if you cannot source unsulphured molasses as you can easily use blackstrap molasses or even treacle.
One crucial ingredient is ground cardamom which brings an exotic edge to the cookies while adding to the ginger and cinnamon.
To make sure that the gingersnap cookies do spread more and remain chewy, these have a high ratio of granulated sugar to molasses.
That ratio is 1:5 with 40g of unsulphured molasses to 200g of granulated sugar. You should also look to reduce the amount of flour to butter but add slightly more baking soda to ensure that there is a rise.
To save you some time, create the dough balls and then freeze them until you are ready to bake them. 
Instead of butter, try using shortening as an alternative to butter because it traps more air and creates more of a rise.
The rest of the recipe is rather simple, using a couple of teaspoons of baking soda as a leavening agent while there is slightly more ginger than cinnamon.
You should find that the shortening gives the cookies a uniform shape as it melts at a higher temperature.
Therefore, if you dollop the dough balls and spread them evenly, you should have well-rounded gingersnap cookies.
Though a lot of these gingersnap cookies can seem rudimentary, there is a Swedish recipe that you can try known locally as pepparkakor.
Though no pepper is included, these cookies are still relatively spicy and the molasses with granulated sugar gives a delicious chew to each one.
These are a little thinner, likely as the teaspoon of baking soda is dissolved in a tablespoon of water, so try not to create gingerbread houses with them.
The ground cloves are optional as you still get to include ground ginger and cinnamon, plus you can create wonderful seasonal shapes in your cookies. 
Make sure that you have around half a cup of coarse brown sugar at hand to dip each cookie into as it will create a delicious crunch to each bite.
Decide on how big you want each cookie to be too, you can make around 17 three-ounce cookies, or 34 if you want them at half the size though the larger ones will need a bit longer in the oven.
The ingredients are simple enough to halve the batch if you only want to make a few gingersnap cookies for a few people.
Though the recipe only states ground cinnamon and ginger, you can mix up the proportions or add some nutmeg for a richer flavor. 
You only need to use one bowl to create 14 crisp and chewy gingersnap cookies. Make sure that you use regular molasses as blackstrap molasses can result in a cake-like texture and an overly dark color.
This recipe goes even bigger with the spices by involving ground ginger, cinnamon, as well as freshly grated nutmeg.
If you want a firmer dough then chill it for only half an hour in the refrigerator before baking and allowing it to completely cool.
Final Thoughts
For such a seemingly traditional recipe, there are several variations on the humble gingersnap cookie. You could add cardamom or nutmeg to the ginger and cinnamon, or simply mix up the ratio of spices.
Then there is the baking time to consider as the longer they bake for, the crispier they should turn out.
If you are feeling extra-creative, create a batch of Swedish pepparkakor and use a knife to shape them up for the holidays, perhaps some reindeer or polar bears.
Frequently Asked Questions
Why Should You Try Not To Chill The Dough For Gingersnap Cookies?
There is a rise-and-fall effect when using baking soda in cookie recipes which is important to recall.
The baking soda combines with the rest of the ingredients, including sugar, to help the rise during baking and then fall which results in a crackle top.
To make sure that the cookies rise quickly enough, you want room temperature dough as it rises quicker than cold dough.
Other things to look out for in gingersnap cookies include a crisp edge, soft, chewy center, and spicy notes.
What Makes A Gingersnap Cookie Chewy And Soft?
You should look to use brown sugar with the addition of molasses if you want a gingersnap cookie to be both chewy and soft.
By rolling them in coarse brown sugar, or cinnamon sugar, you can create another crunchy texture which is a nice variation.
To make them soft in the middle, beat the sugar and butter until fluffy in texture and ensure that they should spread out while baking.
Make sure that you remove the gingersnap cookies from the oven when the edges have set as they will continue to cook while cooling on the side.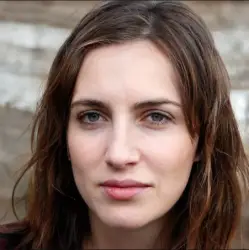 Latest posts by Anna Ingham
(see all)