If you've ever felt in the mood for a dessert but weren't sure how to satisfy your sweet tooth without the negative side effects of too much sugar, we have one word for you: blueberries!
Blueberries are sweet, yet refreshing and slightly tart at the same time, so they're the perfect dessert ingredient for when you don't want anything too heavy or sickly. 
We have 15 delectable blueberry desserts to talk about today, so you'll have plenty of delicious fruity treats to add to your personal recipe book! 
We couldn't make a list of blueberry desserts without starting with everyone's favorite classic: blueberry pie! 
This blueberry pie is perfect served warm with your choice of cream or ice cream. The best part is that this is a recipe you can make as complex or as easy as you like. 
You could use store-bought pastry and ready-made filling to cut down on prep, or you could make the pastry from scratch and create a pie filling using fresh blueberries, sugar, cornstarch, lemon peel and spices. 
The recipe even shows you how to make a traditional lattice for the top of the pie. 
Another classic dessert that you can make using blueberries is cheesecake!
You can make cheesecake with a lot of different fruits, but blueberry is one of our favorite cheesecake flavors because of how the tartness of the blueberries combine with the flavor of the cream cheese.
This particular blueberry cheesecake recipe features a graham cracker crust, a layer of blueberry puree, a creamy blueberry cheesecake filling, and a whipped cream topping to bring it all together. 
It does take a while to make since you need to refrigerate it for at least 5 hours, but the flavor combination is totally worth it!
Ice cream is a wonderful dessert in its own right, but it's also the perfect accompaniment to other desserts, which is why this blueberry ice cream is among our favorite blueberry desserts ever. 
This is a no-churn blueberry ice cream recipe, so it's easy to make without any special appliances or tools.
You just need blueberries, heavy cream, sugar, condensed milk, and lemon juice, which you'll combine using a food processor and hand mixer before freezing. 
In a few hours, you'll have creamy and flavorful blueberry ice cream to enjoy by itself or as a side for another dessert!
Blueberry is a classic muffin flavor, and you can find blueberry muffins at many grocery stores and bakeries.
However, we think all desserts taste better when you've made them yourself, so we like to use this recipe to make our own blueberry muffins. 
Something we like about this recipe is that it's super simple but the results taste like professionally-made baked goods.
The key is sprinkling the batter (which is made with fresh blueberries) with turbinado sugar before baking in the oven for a crispy, crumbly topping.
You've probably heard of banana bread, but that's not the only sweet bread you should learn to make if you love fruity desserts. This blueberry bread is absolutely delicious and takes less than 10 minutes to prepare!
This recipe calls for relatively few ingredients. You only need flour, baking powder, sugar, salt, butter, vanilla extract, sour cream, and of course, some blueberries. 
Once you've done the prep, you can simply put the bread in the oven for up to 55 minutes, and you'll have blueberry bread that keeps at room temperature for 3 whole days. 
There's only one blueberry recipe as iconic as the traditional blueberry pie, and that's blueberry cobbler. 
We love this blueberry cobbler recipe from Delish because of the incredible biscuit topping, but the beauty of cobbler is you can make it in many different ways, so feel free to adjust the recipe to your topping preference.
We also like that the filling for this cobbler relies mostly on the blueberries themselves, with just a bit of lemon juice and zest. This means that the flavor isn't overcomplicated and allows the natural taste of blueberry to shine through.
If you've never tried blueberry sweet rolls before, we think this recipe for blueberry and lemon sweet rolls should be next on your list of desserts to try. 
Admittedly, this recipe is a time commitment because you'll need to allow over 2 hours for the dough to rise, but the prep and cooking time together takes under an hour. 
The filling tastes best when made with fresh blueberries, although you could use frozen. The real star of the show, though, which is sweet, creamy and zesty at the same time thanks to the combination of sugar, lemon zest, and full fat cream cheese. 
If you love blueberry cobbler, you'll probably also love this recipe for blueberry crumble.
If you don't know the difference between a cobbler and a crumble, it's mainly that a cobbler traditionally has a biscuit topping whereas a crumble has a crumb topping. 
This recipe takes less than an hour to make in total, and both the filling and the topping are really easy to make. For the crumble, you just need oats, flour, sugar, butter, cinnamon, and salt. 
Meanwhile, for the filling, you'll be using cornstarch, blueberries, sugar, lemon juice, and vanilla extract. 
You could make a larger blueberry tart, but these mini blueberry tarts are so quick and easy to make, and they're the perfect portion sizes for individual desserts or snacks.
This recipe makes 6 mini tarts, but you can increase the ingredients to make more or less quite easily. 
The only ingredients needed are fresh blueberries, egg yolk, cornstarch, sugar, and a couple of refrigerated pie crust sheets. If you're feeling energetic, you could make the pie crust from scratch – it's up to you. 
Like the mini blueberry tarts, these blueberry lemon whoopie pies are the perfect snack-sized desserts. 
If you're unfamiliar with the concept of a whoopie pie, it's basically a cross between a cookie, a cake, and a sandwich. That's right: they're amazing. 
Aside from the fresh or frozen blueberries, all you need is buttermilk, flour, butter, sugar, an egg, baking powder, salt, vanilla extract, and some lemon zest.
We've already recommended a recipe for blueberry ice cream and blueberry crumble, but if you want to take your frozen blueberry dessert to the next level, why not try making this blueberry crumble sundae?
You'll need 2 hours and 30 minutes in total to make 6 servings of this sundae, but considering the fact that this includes the time the sundae needs to sit in the refrigerator, it's actually a pretty low-effort dessert. You wouldn't know that by how good it looks and tastes, though!
These blueberry scones make delicious desserts, but they're also great afternoon snacks. 
The traditional British dessert with a blueberry twist can be made using just a few basic ingredients, but you can also make an easy vanilla glaze to pour over the top if you want some extra sweetness. 
What we love about this recipe is that it shows you how to achieve the perfect scone consistency by grating (yes, grating) the butter before you add it to the dough. 
A blueberry milkshake is a delicious but slightly lighter alternative to blueberry ice cream or sundae after a big meal, and this is our favorite blueberry milkshake recipe. 
You can have this milkshake ready in just 5 minutes because all you need to do is add blueberries, ice cream, milk, and honey to a blender and combine before serving!
Trifle, like the scone, is another traditionally british dessert, but this blueberry lemon trifle is an interesting twist on the traditional recipe. 
Although the trifle will need 2 hours to set in the refrigerator, it takes just 15 minutes to prepare, and this recipe makes 14 servings. So, it's an easy dessert recipe for when you're having a large gathering. 
Our final blueberry dessert recommendation is this fantastic blueberry upside down cake! 
Not only is this recipe delicious, creamy, and satisfying, but it's keto-friendly and gluten-free because the crumb is made with almond and coconut flour. The topping is a simple combination of blueberries, unsalted butter, and brown sugar. 
Meanwhile, the recipe calls for a scoop of protein powder (your choice) in the cake itself, so this is one of the healthiest cakes we've ever tried!
Final Thoughts 
Blueberries are so delicious and versatile, they can be turned into a wide variety of incredible desserts, as demonstrated by the 15 recipes we've shared today.
Bear in mind that if you're planning to use frozen blueberries as opposed to fresh, you'll need to let them thaw out and drain away the juice for the majority of these recipes. 
Always check the notes (usually either at the top of bottom of the recipe) if you're unsure about any ingredients or substitutions.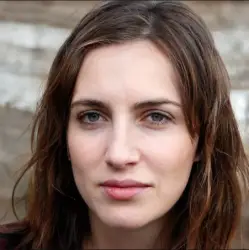 Latest posts by Anna Ingham
(see all)