It's probably fair to say that it's never truly Christmas until a fresh, hot batch of Christmas cookies comes out of the oven. The smell of warm cookies is a surefire sign that Christmas is fast approaching.
Whether it be a fresh batch of cookies for visiting family, a great way to have fun with your children, or simply a delicious snack, making cookies is a must.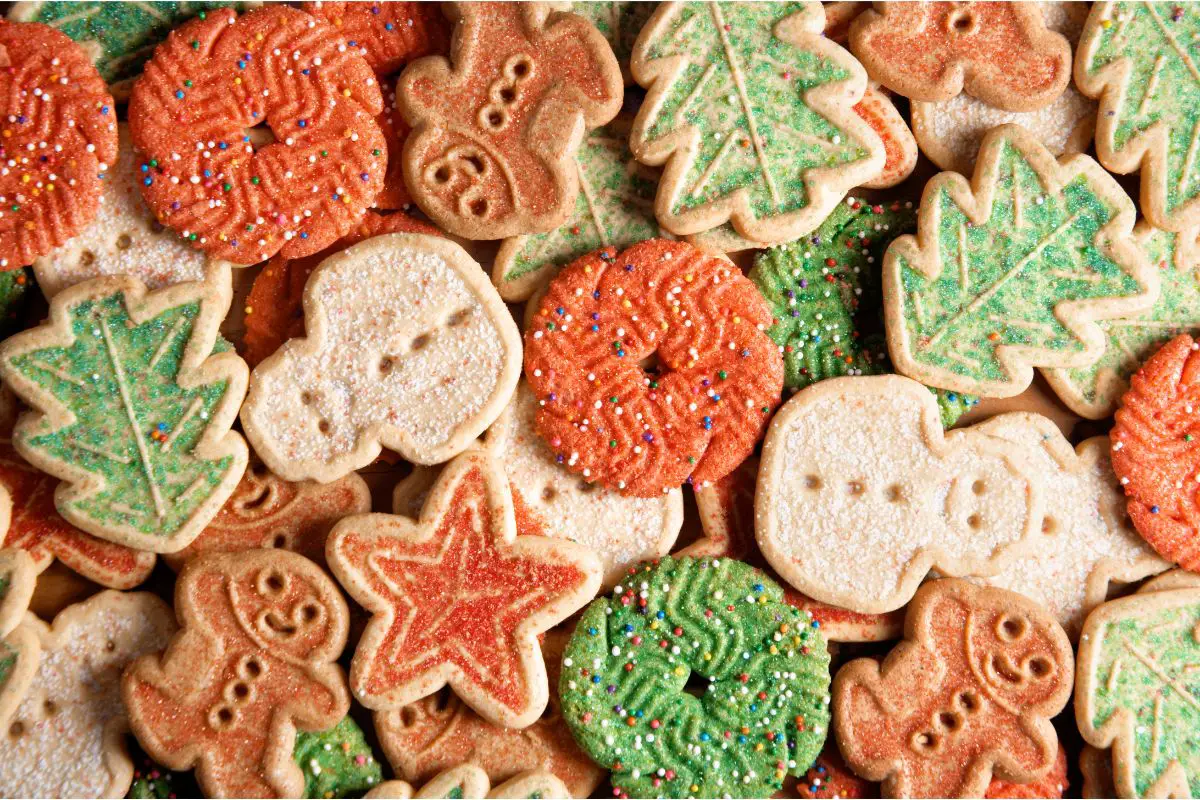 Soft, chewy, crumbly, vibrant, and full of flavor, Christmas cookies are amazing.
However, if you're vegan, you might be struggling to find the best recipe. Whilst it's easy enough to find a wide range of tasty recipes, the problem we have is picking out the best.
Today, we're here to help you find the perfect recipes.
In this post, we're going to show you X best vegan Christmas cookie recipes you can make in no time. If you're looking for an awesome cookie recipe this Christmas, keep reading!
The first Christmas cookie recipe on this list is a classic snowflake gingerbread cookie recipe. Quick and easy to make, these cookies look fantastic and taste even better.
The ingredients list is quite extensive but you probably have all the ingredients you need at home already.
Made using vegan butter and almond milk, these spiced cookies are cut into snowflake shapes and topped with vegan-friendly icing. This ensures that the cookies offer Christmas vibes.
Soft, decadent, and surprisingly filling these chocolate hazelnut cookies are great. Made using wholesome ingredients, you'll be pleased to hear they contain no sugar or dairy products.
Despite containing no sugar, these cookies are still sweet thanks to the cocoa powder and Medjool dates.
Aside from giving the cookies a much-needed crunch, the hazelnuts that top the cookies complement the chocolate flavors beautifully.
The combination of nutty flavors and rich chocolatey flavors is out of this world. These cookies only take 25 minutes to make.
Everyone loves a good chocolate crinkle cookie at Christmas but this next recipe takes things to the next level by lacing them with peppermint.
Extra special, these cookies become unique, flavorful, and almost refreshing.
You will need 12 different ingredients to make the cookies but the recipe does only take 32 minutes to make.
Some of the key ingredients you need include all-purpose flour, cocoa powder, peppermint candies, vanilla extract, and vegetable oil.
Interestingly, this recipe also calls for applesauce to give the cookies extra sweetness.
A recipe for adults now, vegan chocolate Amaretti cookies are quick and easy to make, and super delicious. Irresistibly good, these cookies are also gluten-free.
To make these traditional Italian cookies vegan-friendly and gluten-free, the recipe calls for flax eggs.
To give the cookies that strong chocolatey flavor we all crave without using dairy chocolate, chocolate powder is used instead.
The only other ingredients you need to make these dunk-worthy cookies are almond flour, coconut sugar, baking powder, and icing sugar.
If you came here looking for a simple, yet elegant Christmas recipe, look no further than this orange biscuit recipe from Susie Chef.
Wonderfully simple and full of zesty flavors, these cookies look the part and taste incredible.
They're sweet, buttery, and orangey without being too overpowering. What completes these charming cookies is the white icing and orange zest topping.
It will take you over an hour to make these cookies but the recipe is super simple, calling for just 8 ingredients.
The next recipe on our list shows you how to make the most amazing jam thumbprint cookies.
Soft, crumbly, buttery, and sweet, these cookies will impress your guests and satisfy even the sweetest of sweet tooths.
A great party dessert or snack, these cookies are perfect for Christmas because they have a bright red filling. We have the sweet and juicy raspberry jam to thank for that.
Another great thing about this recipe is that one batch is enough to serve 20 people. 
Danish butter cookies made dairy-free still have all the familiar flavors and textures we come to expect from the biscuits we find in a tin.
Great fun to make, you can whip a batch of Danish butter cookies up in less than 40 minutes.
We see this recipe as a great opportunity to get your children involved with Christmas baking. The recipe only calls for 7 basic ingredients and your children can personalize the cookies however they like.
The end product is a batch of warm, buttery, soft, and crumbly cookies with great flavor.
This next recipe is easily one of our favorite Christmas cookie recipes.
Every bite of these stunning gingerbread stained glass cookies is filled with sweet and buttery biscuit and sweet and juicy boiled sweets.
To create a unique stained glass appearance, this recipe gets you to place a boiled candy in the middle of the cookies.
The boiled candies are then melted, leaving behind a sweet, almost transparent candy window. 
Excellent fun and relatively easy to make, you have to give these cookies a try.
This chocolate orange cookie recipe is a one-bowl recipe that sees you stuff soft cookie dough with chocolate chips and orange.
Sweet, rich, and zesty, this combination is perfect for creating festive cookies with a fruity surprise.
To take these vegan and gluten-free cookies to the next level, you could always add some crushed peanuts into the mix too. This will only enhance the flavors and the crunch of the cookies.
These almond crescent cookies don't have a typical cookie appearance but they are perfect for Christmas.
Best when served with a fresh cup of coffee, these cookies have a pleasant nutty, and sweet flavor you and your family will love.
Taking just 30 minutes to make, the only ingredients you need are ground almond flour, vegan butter, organic confectioners sugar, vanilla extract, salt, and chopped pecans.
The result is a batch of soft and crumbly cookies with delicious sugar dusting.
Next, we have another mint chocolate cookie recipe for you. This time, we have a recipe that shows you how to make chocolate mint cookies that are soft, rich, and extremely gooey.
What's not to like about that?
You'll want to make two batches of these cookies as they'll fly off the plate. The combination of mint and chocolate in what is a wonderfully simple recipe works perfectly.
In total, you only need 10 ingredients and a spare 30 minutes to make a batch of these cookies, so you don't have any excuses.
If you're having guests over and you want to impress them with a more impressive-looking batch of cookies, you should try making a batch of these pumpkin pecan biscotti cookies.
Despite their complex appearance, these cookies are surprisingly easy to make. In fact, you can make them in less than an hour.
You will need more ingredients than in other recipes, 17 to be precise, but the long ingredients list does help give the cookies more flavor so we can't complain.
These cookies are perfect for dunking so be sure to make a fresh cup of coffee to serve with them.
A cookie recipe you can't go wrong with is this classic vegan sugar cookies recipe from Nora Cooks.
Super simple, quick, easy, and versatile, this recipe will help you whip up a batch of tasty buttery cookies in no time.
The best thing about this recipe though is how you can cut the cookies into any shape you like and decorate them with anything you want.
As a result, this is a great recipe to make with young children. 
You could even hold a competition to see who can decorate their cookies the best.
The final Christmas cookie recipe on this list is a gorgeous vegan Viennese Whirls recipe. This cookie-based dessert features two shortbread cookies and a sweet jam and buttercream filling.
Creating a cookie sandwich, this recipe keeps things vegan by calling for vegan butter and a vegan buttercream.
As far as the cookies are concerned, you can expect crumbly, soft, sweet, and buttery biscuits.
Despite their complex appearance, you can make a batch of Viennese Whirls in less than 40 minutes.
Final Thoughts
In this post, we've shown you 14 of the best vegan Christmas cookie recipes you can make at home quickly, easily, and effortlessly.
No matter what type of cookie you want to make, you should be able to find something you like on our list.
We've looked at traditional recipes, fruity recipes, nutty recipes, and even decadent cookie recipes that will blow your guests away.
All you have to do now is decide which recipe or recipes you want to try first.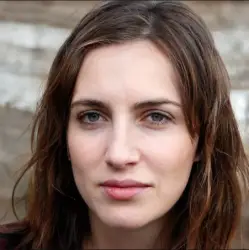 Latest posts by Anna Ingham
(see all)