As far as desserts go, a delicious homemade banana pudding takes some beating. An absolute classic, this rich, creamy, and sweet pudding always goes down a treat. 
Aside from being extremely delicious, this classic dessert is also very easy to make.
While we can buy banana pudding in most grocery stores, they never taste as good as a tasty homemade banana pudding, like the one your grandmother makes.
Today, we're going to show you just how easy it is to make banana pudding. To do that, we've put together this super simple guide that tells you everything you need to know.
We're going to tell you what you need to make banana pudding, how to do it, and anything else we think you need to know.
Let's not waste any more time, let's show you how to make homemade banana pudding!
What Is A Banana Pudding?
If you've not been lucky enough to try banana pudding yet, let us quickly explain what it is. Banana pudding is a classic American dessert that is believed to have been created in 1878. 
The first published recipe for banana pudding appeared in Good Housekeeping in 1888, making it an old-time classic.
In terms of what it is, banana pudding is a pudding dessert that consists of vanilla pudding layered with vanilla wafer cookies, whipped cream, and of course, banana.
The ultimate comfort food, this dessert is sweet, creamy, crunchy, and downright delicious.
Why Should You Make Banana Pudding?
So, from the thousands of dessert recipes you can find online, why should you make a homemade banana pudding?
Well, aside from the advantages banana pudding has when it comes to taste, banana pudding is also very easy to make.
Even from scratch, you can quickly throw this pudding together in 10 minutes. All you have to do then is let it chill.
Banana pudding is also a great choice because it looks great. This makes it a great party pleaser.
Finally, this is a fantastic dessert for feeding a large group.
The Ingredients
Now you know what to expect from a homemade banana pudding, let's look at the ingredients you need to make it. You only need four basic pantry ingredients to make our banana pudding recipe.
Those four ingredients are:
1 batch of vanilla pudding
4 sliced bananas
Whipped cream
½ box of Nilla wafer cookies.
You can buy the whipped cream and vanilla pudding premade if you want to but we strongly recommend making it from scratch if you have the time.
Making these two ingredients homemade will only make your banana pudding more impressive.
How To Make Our Homemade Banana Pudding Recipe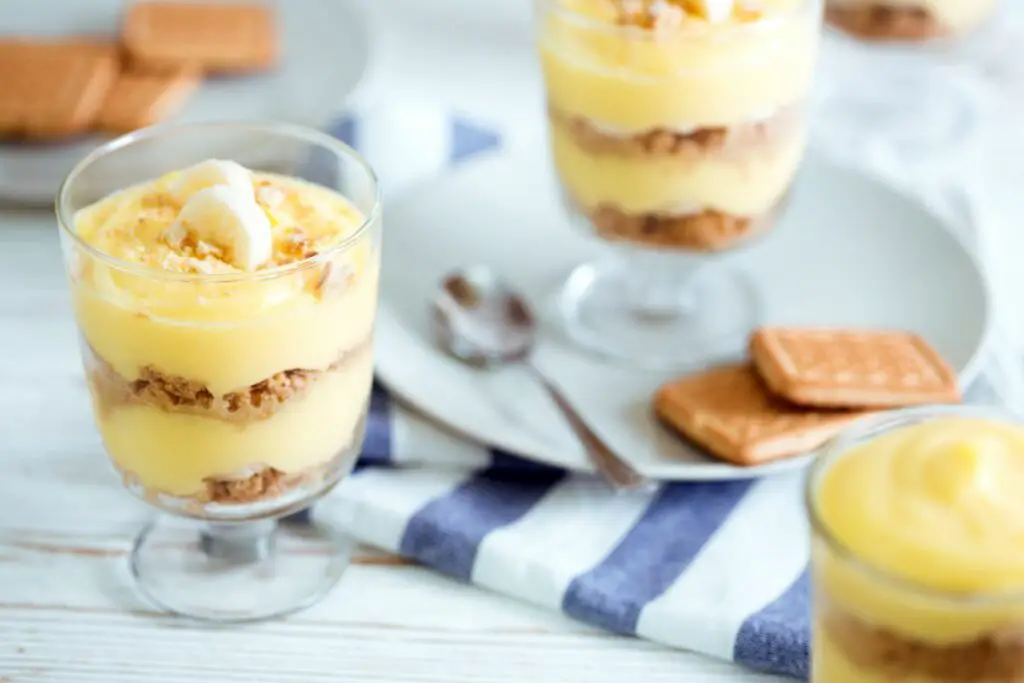 Once you have the four ingredients you need to make banana pudding, you're ready to start making it. There are a variety of different ways to make banana pudding but making it homemade is by far the best.
First of all, you will need to get the components of your pudding recipe ready. To do this, prepare your whipped cream and vanilla pudding, and slice your bananas.
After that, you can start putting together your banana pudding.
To make things easier for you, we've listed the steps you need to follow below!
Step 1 
Line the bottom of your dessert dish with Nilla wafer cookies and a layer of sliced bananas. Make sure you layer the cookies first and then put the bananas on top.
Step 2
Once you've made your first layer, pour half of the warm pudding over your sliced bananas. 
Step 3
Repeat the Nilla cookie, banana, and pudding layers again. One more time should be enough.
Step 4
After that, place a layer of plastic wrap over your pudding. Make sure the plastic wrap touches the top of the pudding slightly. This will help prevent skin from forming on your pudding as it cools.
Step 5
You can now leave your banana pudding in a fridge for at least four hours. This will give the pudding time to chill. After four hours, remove the plastic wrap and top your pudding with whipped cream.
You can use as much or as little whipped cream as you like. To finish, garnish the pudding with banana slices and cookies.
Step 6
Done! You can now serve your homemade banana pudding to your guests.
How Much Banana Pudding Does This Recipe Make?
This homemade banana pudding recipe will help you make a batch of banana pudding big enough to serve six to eight people.
You should be able to fill a two to two-and-a-half-quart baking dish with this recipe. 
Storing Your Banana Pudding
If by some miracle you have some of your homemade banana pudding leftover, you're going to want to keep it fresh and delicious. The best way to store banana pudding is in an airtight container. 
Alternatively, you can wrap the dish tightly in plastic wrap. Either way, you should then place your banana pudding in the refrigerator. Your banana pudding will be good for three to four days in the fridge.
It might also be worth noting that you can keep banana pudding in the freezer. Banana pudding kept in a freezer usually lasts up to three months before losing flavor and texture.
Final Thoughts
There you have it, the perfect homemade banana pudding recipe. In this post, we've shown you how to make a delicious banana pudding from scratch.
Banana pudding is a wonderful dessert that will quickly get eaten at your next party or family dinner. Despite being a real crowd-pleaser, homemade banana pudding is super easy to make, so be sure to give it a try.
Frequently Asked Questions
Is Homemade Banana Pudding Vegan?
Most homemade banana pudding recipes are NOT vegan. More often than not, banana pudding recipes call for dairy ingredients such as vanilla pudding and whipped cream. 
Is Banana Pudding Gluten-Free?
Most banana pudding mixes are gluten-free. However, most homemade banana pudding recipes call for a layer of cookies that aren't usually gluten-free.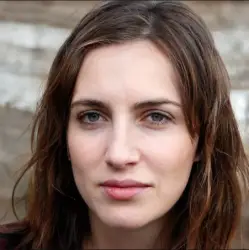 Latest posts by Anna Ingham
(see all)