Do you want to make clotted cream but aren't sure how? Maybe you are looking to create a new dessert and it requires clotted cream?
Or are you curious and want to know more? Whatever the reason that brought you here today, we have the answers for you.
Finding out how to make clotted cream can be tricky, especially if you have never made it before.
You head online to find out more but are met with page after page of conflicting and contradicting information, leaving you unsure where to turn or who to trust.
Frustrated and overwhelmed, you wonder if you will ever find out how to make clotted cream. 
Well, that is where we come in to save the day! Keep reading to find out how to make clotted cream, with our handy step-by-step guide.
We also have the answers to all your clotted cream-related questions, so get ready to become an expert today! 
What Is Clotted Cream?
Let's start with a brief recap for anyone that needs it. Clotted cream is a thick cream made by heating full-cream cow's milk. The cream is heated gently, allowing the fat to separate to the top and cling together. 
After being heated and cooled, the cream is then stirred to create clotted cream. Clotted cream will have a thick, smooth texture, and is perfect for spreading across cakes and other baked goods. 
Clotted cream is traditionally made with unpasteurized cream. However, unpasteurized cream is illegal to sell in the US.
Instead, pasteurized cream is used. This is cream that has been heated to 167 degrees Fahrenheit for 15 seconds and then chilled. 
Pasteurized cream is fine to use and will yield similar results, but make sure that you don't use u;tra pasteurized cream, as this does not clot as well. 
How To Make Clotted Cream?
Now that we have established what clotted cream is, let's see how you make it. You can follow our step-by-step recipe below to see how you can make clotted cream that is perfect for any dessert. 
Step 1 – Gather Ingredients
First, you need to gather your ingredients. Thankfully, clotted cream requires just one ingredient! You will need two cups of heavy cream. Make sure that you don't have ultra-pasteurized as this does not work well for clotted cream. 
Step 2 – Pre-Heat
Next, preheat your oven to 170 to 180 degrees Fahrenheit. 
Step 3 – Add Your Cream 
Once your oven has heated, pour your cream into a glass baking dish or a shallow casserole dish. You want the cream to come 1-2 inches up the sides of the dish with a lot of surface area. 
Step 4 – Place In The Oven 
Take your dish of cream and place it in your oven for 12 hours. This is ideally done overnight, and the cream should be uncovered during this time.
Step 5 – Remove 
After being heated for twelve hours, your cream will have developed a skin. It should be a pale tan color at this point, with no dark brown spots. Remove the dish from the oven and allow it to cool to room temperature. 
Step 6 – Refrigerate
Once your cream has cooled, cover the dish and refrigerate overnight or for eight hours. 
Step 7 – Skim The Cream 
After chilling, you can gently skim the thick layer of cream from the surface, leaving a thinner liquid behind.
This feels like removing softened ice cream from the top of milk. the skin will soften once you mix it with the cream, so don't panic! 
Step 8 – Stir The Cream 
Stir the skimmed clotted cream gently to make a smooth texture. If your cream feels too thick here, you can add some of the thin liquid to your cream and stir until it reaches the consistency you want. 
Step 9 – Store 
Store your clotted cream in an airtight sealed container in your refrigerator. The cream can be kept for up to two weeks! 
What Is The Difference Between Whipped Cream And Double Cream?
There are a few differences between whipped cream and double cream. While they are both made with heavy cream, whipped cream is whipped into light and fluffy pillows. Sweeteners and flavors are sometimes added too. 
Clotted cream is heated and separated like we saw earlier. This process creates a thick and creamy substance and is typically not sweetened. Its texture is creamy, like butter, and does not come with the added flavors whipped cream sometimes does. 
Can I Make Clotted Cream In The Slow Cooker?
Yes, you can make clotted cream in the slow cooker! To make clotted cream in the slow cooker, you will need to add your cream to a glass bowl, placed in your slow cooker above an inch of room temperature water. 
You can then heat your slow cooker too high, with the lid slightly ajar for steam to escape. Check on your cream every hour with a digital thermometer.
You will also need to check the color of the skin on the cream and the water levels. You will need to do this for 12 hours until the skin of the cream is a pale tan color. 
After this, you can remove the cream from the slow cooker and follow the steps that we showed you earlier, where you cool and stir the cream to become a clotted cream.
Final Thoughts 
And there you have it! Everything you need to know about making clotted cream.
Making clotted cream is a time-consuming process, but providing you follow our steps you can enjoy a rich and creamy clotted cream that will spread beautifully across cakes and scones!
Make sure that you purchase the right cream when making clotted cream and where possible, use a digital thermometer to ensure that your cream isn't getting too hot while it is baking. 
Happy cooking!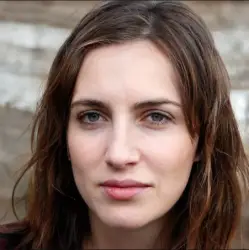 Latest posts by Anna Ingham
(see all)